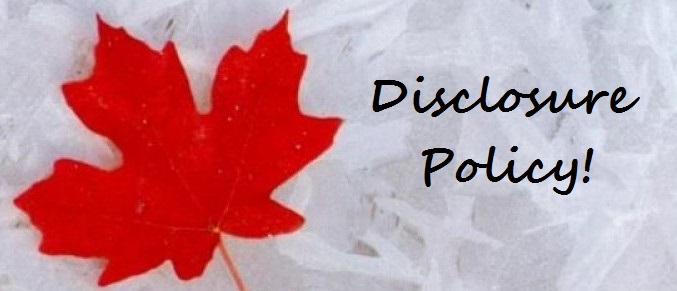 As MapleMouseMama grows I find myself more involved with followers, other blogs, brands and even causes.  So, to that end I must add some protection, just in case.  This disclosure is not perfect in any sense but I think it gets the job done.  So let's begin:
This disclosure statement is valid from August 22nd, 2013 going forward.
This blog is a personal blog, written and edited by moi.  All the contents of the Blog, EXCEPT FOR COMMENTS, constitute the opinion of the Author, and the Author alone; they do not represent the views and opinions of the Author's employers and supervisors, nor do they represent the view of organizations, businesses or institutions the Author is a part of. The Author is not a professional, and you should never substitute information from this Blog for information obtained from a professional. The content of this Blog is not intended to cause harm, but if You have any concerns about the contents of this Blog, please contact the Author. Disagreeing with the content of the Blog does not constitute sufficient ground for You to ask the Author to remove or modify any parts of this Blog.
The Author is paid and/or compensated to write content on this Blog sometimes. The compensation received will never influence the content, topics or posts made in this blog.  The owner of this blog is compensated to provide opinions on products, services, websites and various other topics. Even though the owner of this blog receives compensation for posts or advertisements, the owner will always give honest opinions, findings, beliefs, or experiences on those topics or products. The views and opinions expressed on this blog are purely the bloggers' own. Any product claim, statistic, quote or other representation about a product or service should be verified with the manufacturer, provider or party in question.
PLEASE do not post any rude, offensive, or harassing comments on this blog. All comments that I feel violate this policy will be removed. I enjoy a spirited conversation, appreciate other opinions and have no problem being disagreed with, but please be nice.

Since the name of my blog implies Disney ♥ ( ahem, the Mouse part) and my logo backs that up ( pretty creative huh?  I made that baby ) I just want to let you know that I am not affiliated with or employed by the Walt Disney Company or any of its affiliates. However, I love all things Disney and will share this love through the posts on this blog and its Facebook page. I may share my opinions about the Walt Disney Company & its affiliates, but these thoughts are solely mine and do not necessarily reflect the thoughts or opinions of the Walt Disney Company or its affiliates.
Let it be known though that this blog is not just a Disney lover.  We are an equal opportunity blog and as we grow we will share that love in whatever direction we see fit!
As always, thank you for stopping by and taking the time to read and comment.
FT&PD
Suz