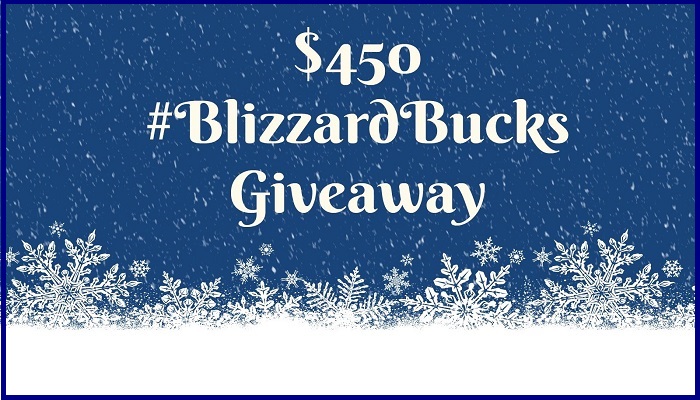 Tis the season to be out shopping and spending lots of money, honey! I love the spirit of the season as much as the next guy, but let's face it, we do spend a lot of time and money buying presents during the holidays. For example, did you know they celebrate Mother's Day on December 8th in Panama? Or the Dōngzhi Festival in Taiwan on December 21st? Independence Day starts on December 16th in Kazakhstan and Jamhuri Day in Kenya is on December 12th.
This year Hanukkah starts on December 13th, Christmas Day is always on December 25th and Kwanzaa celebrations start on December 26th. In my family we even have several birthdays to shop for in December! So there is always a reason to be making a list and checking it twice no matter what part of the world you live in. And that is where we come in. Canadian bloggers to the rescue!
This year myself and over twenty other amazing Canuck bloggers are excited to bring you the #BlizzardBucks cash giveaway!! With many easy ways to participate AND daily entries to complete, you will have a ton of chances to win our fabulous prize of $450.00 Canadian cash, distributed via PayPal. You can do with it what you will, but just imagine all of the shopping you can get done with that kind of dough! 🙂 
The Giveaway!
One lucky reader will win this amazing prize of $450 CAD cash paid via PayPal!!To be eligible to win just complete the Rafflecopter below with your qualifying answers. This giveaway is open Worldwide to residents ages 18 and older, but is void where prohibited by law, like in Quebec, Canada. Please read our giveaway rules before entering.  This giveaway ends on December 4th, 2017 at 11:59 pm.  Good luck!
How will you spend your #BlizzardBucks if you win this awesome giveaway?
FT&PD
Suz
**Make sure you check out our 2017 Holiday Gift Guide!