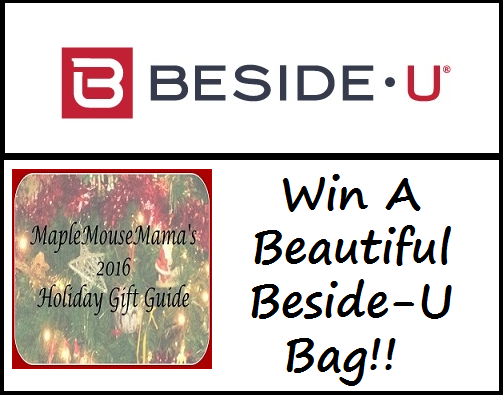 When I prepare to head out of the house on any given day I have a huge list of items I need to make sure I have on hand. They range from regular purse items like my wallet and cell phone to things for the kiddos like wipes, EpiPens and inhalers.  Then there is the in-between stuff that maybe not everyone carries with them, but I would not be caught without and that list includes my water bottle, a notebook, kleenex, mints and my tablet.  If I am going anywhere for longer than a little jaunt that list grows to include a book or magazine and my computer and all of it's trappings.  So, a regular little purse is not ever going to cut it for me. Don't you agree? 🙂 
Earlier this year I was introduced to the answer to my prayers in the form of a great bag from Beside•U. First of all, any gal will tell you that she loves to look at bags, in all shapes and sizes and Beside•U has that part covered in spades. With 20 collections to choose from, housing bags in every shade you can image, there is quite literally something for everyone. I guarantee that you will find several somethings that suit your taste and style, not to mention compliment your existing wardrobe and lifestyle.
Along with a fabulous array of items to choose from, you can rest assured that Beside•U has made their bags to last. That is because they use a durable nylon that is lightweight and tear and water resistant. It is perfect for traveling or just for tossing in the car when you take the kids to their games.  Your Beside•U bag will give you years of use and will continue to look great!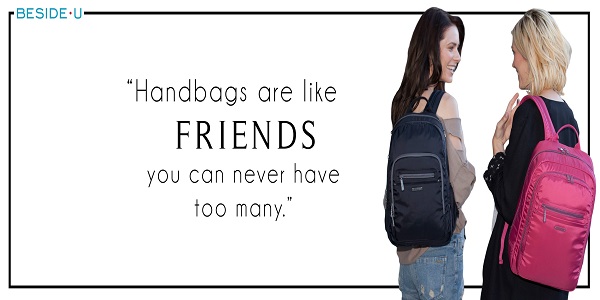 Many of the Beside•U bags have a really cool feature called RFID.  In order to offer extra security, the RFID guarded technology is used on a full zippered pocket that blocks thieves from stealing your credit card information. Yes, it's true. With special equipment a nefarious person just has to walk by to obtain your data and you would not even know it is happening! Having this feature is especially desirable if you travel a lot. It is worth paying attention to these things and having an RFID bag is a step in the right direction.
Beside•U recently sent me their beautiful Mya backpack from the CREED Collection. Aside from the RFID blocking zippered pocket that keeps my information safe, my favourite part of this bag is the interior pockets that let me keep items like my wallet safe, but handy. The main compartment also opens on the backside of the backpack to provide extra security for items like my laptop or tablet. The Mya is stylish and lightweight so I don't feel like I am lugging a suitcase around and it fits all of my daily essentials! I have been hard pressed to keep this bag out of my teen's hands. 🙂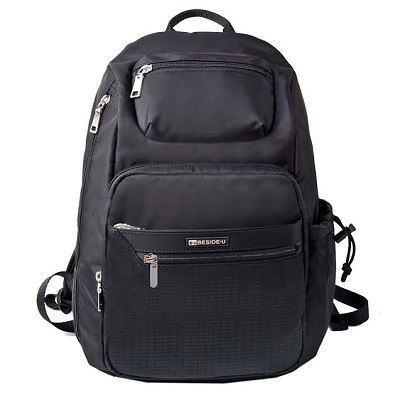 The Giveaway & Coupon Code:
I am excited to share that one very lucky MapleMouseMama reader is going to win a beautiful bag from Beside•U! **Please note that the prize may vary from the one pictured above.  We would also like to offer all readers the chance to save on both new and sale merchandise from Beside•U during the holiday season. Use the code MMM15 to save 15% on your purchases!!
Check out the Rafflecopter below to enter for your chance to win. This giveaway is open to Canadian residents over the age of 18. Please read our giveaway rules before entering. Please note that with the busy holiday season there is no guarantee the prize will arrive before Christmas, but we will do our best! This giveaway will end on December 23rd, 2015 . Good luck!
What collection from Beside•U are you most interested in? Have a look at the options here.
Merry Christmas
FT&PD
Suz
**For lots more great gift giving ideas, please check out the #MMMGiftGuide!
**Be sure to enter the many giveaways we have going on right now, including ones for cash!!
Disclosure: I was provided with a Mya bag from Beside•U for the purposes of facilitating this review.  All opinions expressed are my own.