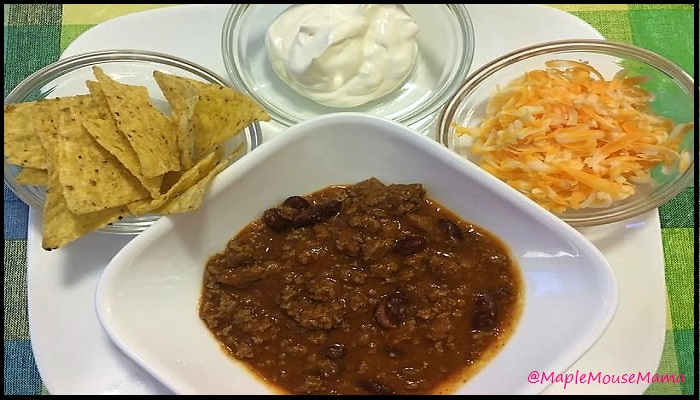 Raise your hand if you like comfort food. As you probably can guess, mine has shot straight up. 🙂 It doesn't matter what the weather is like or what time of the year it is, comfort food is always welcome in my home. A family favourite since I was a child is chili. Unfortunately, not everyone in my current household loves it, but thankfully those old enough to participate in the cooking of this yummy dish do not stand among those ranks. Yes, I am talking about my picky son. I am sure a day will come when he will love his mama's chili, but today is not one of them. C'est la vie.
Recently my daughter had a hankering for this divine dish, so we decided to update it a bit and use our new crock pot! Actually, I guess it is not really a crock pot, but rather a slow cooker. Either way, we made this dish for ourselves and not an appliance company, so it doesn't matter what I call it. 🙂 But, I digress… In the past, we have always made our chili on the stove and while I still need to cook the meat that way, it was nice to be able to use the crock pot (or slow cooker ) this time. I was able to leave the house for a little while and leave the chili to cook on low. When we arrived home a while later, the smell of dinner filled the house!
Now, I have shared our chili recipe with you before, but since we made some adjustments to it I thought I would share it again. You will need your crock pot, a skillet and a blender.  I hope you enjoy it and if you end up preparing it for your family sometime, please let me know how it worked out. 🙂
Crock Pot Cheesy Chili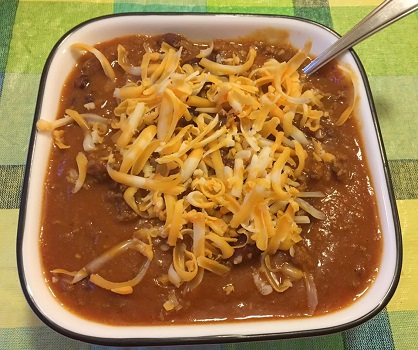 Ingredients (for a really large batch):
3 pounds of lean ground beef

2 large (540ml) can of dark red kidney beans*

1 large (796 ml) can of diced tomatoes

1 large (540ml) can of chickpeas, drained

2 small (284ml) cans of tomato soup**

1 small can of tomato paste

4-5 tbsp of chili powder

1 tsp of pepper

grated marble cheese

sour cream

nacho chips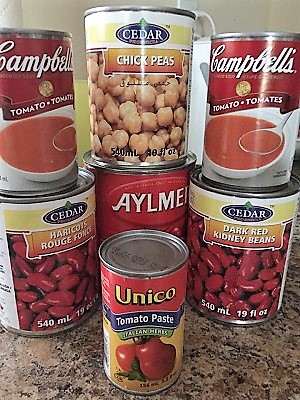 Directions:
1)Place your beef in a frying pan and cook on medium heat until it is evenly browned.  I found the three pounds of ground beef to be a lot to cook, so keep an eye on it, turning it over as you go. The meat on the bottom can start to burn if you don't keep an eye on such a large batch.
2) Drain off the grease. Although we used lean ground beef, this large quantity yielded approximately 3/4 of a cup of grease. Nasty!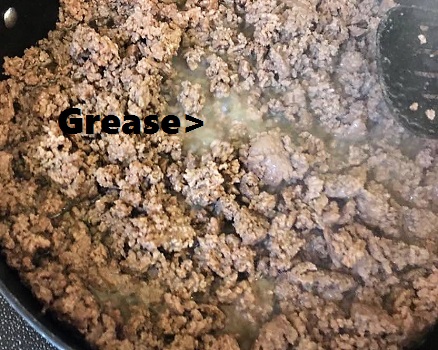 3) While your meat is cooking you can start to blend certain ingredients. I emptied the whole can of diced tomatoes into the blender, juice and all. Before adding the chickpeas on top, I drained off the juice. You will find that because we are allowing our chili to simmer in a covered crock pot, the liquid does not "cook off" as it would in a pot on the stove. For this reason, I chose to reduce the amount of liquids added. Blend the two together on high for about 40 seconds or so.
4) At this point you can spoon your cooked ground beef into the crock pot, then add your puree mixture on top. Give it a bit of a stir now. Next, add a can of tomato soup and one can of kidney beans. *Again, due to the amount of liquid, I chose to drain the juice from one can of beans and leave the juice from the second can. After a good mix, add your second can of tomato soup and your second can of kidney beans.
**You can choose to only use one can of the tomato soup if you prefer less liquid in your chili. After preparing this dish and eating it, I would use only can next time, even with a large quantity of beef. That said, my husband liked having it juicier.
5) Now add the pepper and chili powder to the slow cooker. After combing all of the ingredients together I added in the tomato paste. This is another one of those optional items. I found my concoction to already be a bit heavy on the liquids at this time, so I added the paste to help.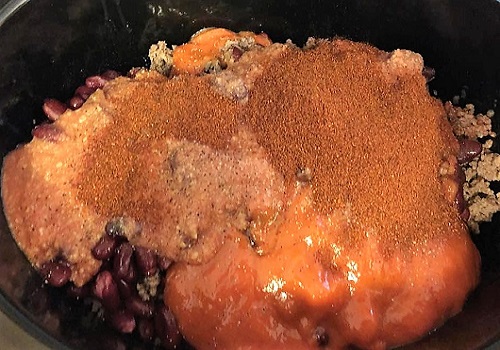 6) Finish off with one last good mix, put on your lid and set your timer. As I prepared the chili in the morning, I set the timer for 7 hours on low, but if you are short on time you can try 3-4 hours on high.
7) When we are ready to serve our chili, my family likes to add cheese. My daughter experimented and added about 1/4 cup of shredded marble cheese to one bowl of chili. After it was mixed in thoroughly, you could see the melted cheese when you scooped it up! It tasted amazing! Another way we like to eat chili is to sprinkle the shredded cheese on top of your portion. Whatever way you prefer your cheese, a bowl of chili is not complete without sour cream and nacho chips. Now that is comfort food at it's finest. 🙂
*The preparation of this recipe takes about 25 to 40 minutes, depending on how much meat you use. The additional time of 3 to 7 hours will also depend on your slow cooker/crock pot setting.
*This recipe, as described above, will yield approximately 10 to 12 servings of chili. Perfect for a party, multiple meals or freezing for later use.
What is your favourite comfort food to eat?
FT&PD
Suz
**Other recipes from MapleMouseMama you may enjoy.