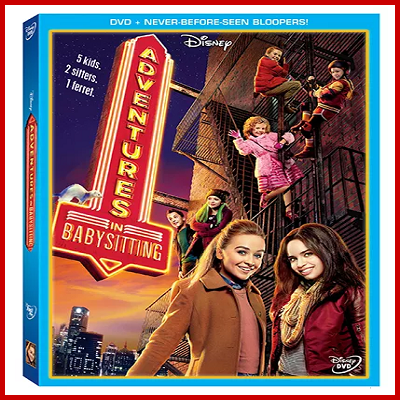 Just in time for those long car trips to the cottage or those late summer night movie marathons, comes the release of the Disney Channel's Original movie "Adventures in Babysitting," starring Sofia Carson of Disney Channel "Descendants" fame and Sabrina Carpenter of the Disney Channel's hit comedy series "Girl Meets World!" This fun, action-packed movie is inspired the widely popular 1980's classic and will have you cheering for "Lola" and "Jenny" as they compete for the same internship. 
In "Adventures in Babysitting," a dull evening for two competing babysitters, Jenny and Lola, turns into an adventure in the big city as they hunt for one of the kids who somehow snuck away! Newbie Lola breaks Rule #1: Never take your eyes off of the kids" and has to call on prim and proper Jenny to help.
Pick up your copy of the DVD, which is available in stores now. You will not want to miss out on the fun when 5 kids, 2 sitters and 1 ferret take on the town. The DVD includes exclusive hilarious bloopers and a cool FREE Magnetic Photo Frame to display your fun babysitting antics. 🙂
Did you watch the 80's version of "Adventures in Babysitting"? I loved it!!
FT&PD
Suz
**For fabulous prizes check out our Giveaways and Reviews page!!