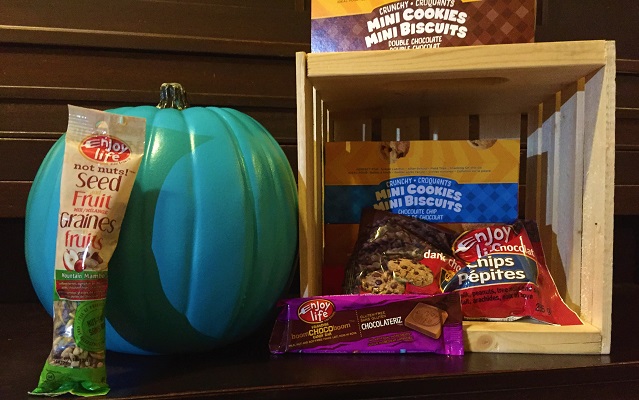 When my son was first diagnosed with multiple food allergies, I have to admit that it felt like the end of the world. How in the heck were we supposed to feed him healthy and tasty food without accidentally poisoning him? It may seem kind of dramatic when I talk about it, but it was and still remains an extremely difficult thing to manage. I can remember walking the aisles of the grocery store, reading label and after label, wondering what half of the stuff listed really was. Did you know that there are literally dozens of words that mean a food item contains egg in some form? For example, livetin, ovalbumin, simplesse and vitelin, to name a few. For a parent dealing with an egg allergy, these words are enough to make you run screaming through the dairy section, crying for help.
When I first learned about a company called Enjoy Life Foods, I rushed to the store to search the shelves. What I saw there did make me cry. Tears of relief, tears of happiness and tears of gratitude. Finally, food that I could feed my child, my baby and not fear that each bite could take his life. Why? Because Enjoy Life Foods makes products that are free from the eight most common food allergens in the United States, which are: wheat, dairy, peanuts, tree nuts, egg, soy, fish and shellfish. This is taken one step further here in Canada where Enjoy Life products are free from the top twelve priority food allergens, which includes the big eight listed above plus sulfites, crustaceans, sesame and mustard. This is music to the ears of a food allergy parent.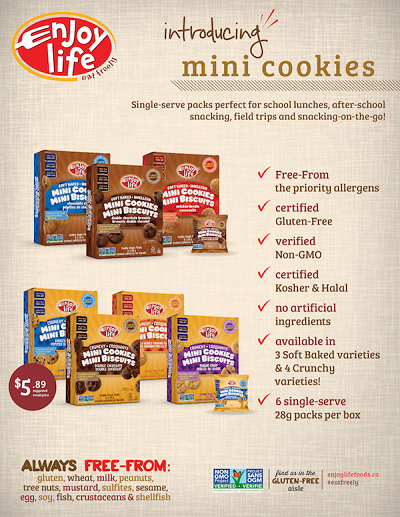 Enjoy Life Foods is constantly looking at ways to make life even better for their customers, so they keep introducing new and exciting products.  At last count there were over 50 different allergy-friendly products, including cookies, snack bars, seed and fruit mixes, baking chocolate, snack chips and even chocolate bars. This makes every day great for food allergy sufferers, but even better than that, it allows the holidays, like Halloween, Christmas and Easter, to be looked forward to and not feared.  A simple thing like a chocolate bar that is safe can mean a world of difference to a child who just wants to fit in.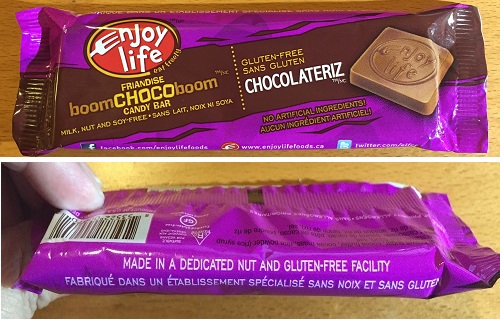 Earlier this fall Enjoy Life sent my family and I some lovely products to try out, along with a cute new teal pumpkin, in support of the #TealPumpkinProject. My son was head over heels with excitement to receive treats just for him.♥ This was our third year supporting the #TealPumpkinProject, but knowing that Enjoy Life had other goodies for him to try out and be able to bring to school, made my week! It's hard to tell in this photo, but William was so in love with the Enjoy Life Boom Choco Boom candy bar, he was in a trance. 🙂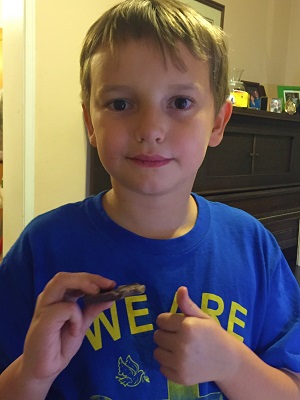 One of the things I was thrilled to find when William was younger were the Enjoy Life Soft Baked cookies. These moist and delicious cookies could be tucked into a snack container for trips to the mall or just for a treat while out for a stroll. Snickerdoodles were a favourite and now they come in a mini, single serve pack! These handy little prepackaged goodies are safe to pack in school lunches and they will stay fresh. The Soft Baked come in Chocolate Chip, Double Chocolate Brownie and Snickerdoodle. Their Crunchy mini counterparts come in Chocolate Chip, Double Chocolate, Vanilla Honey Graham and Sugar Crisp (my fave!)  
The Giveaway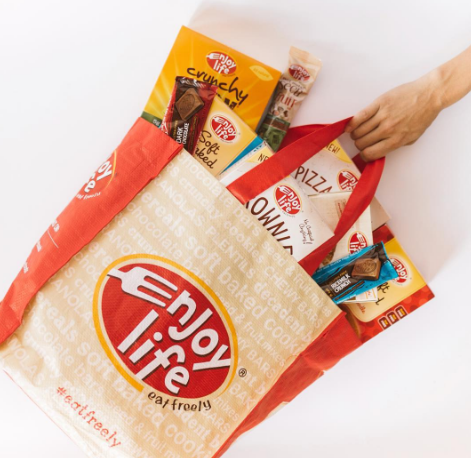 One lucky MapleMouseMama reader is going to win a prize pack containing a selection of Enjoy Life Foods products, like the one pictured above.  To be eligible to win just complete the Rafflecopter below with your qualifying answers. This giveaway is open to Canadian residents, ages 18 and older. Please read our giveaway rules before entering. This giveaway ends on December 10th, 2016 at 11:59pm.  Good luck!
Which Enjoy Life Foods products do you think you would most like to try? You can have a look at all of their products here. 
FT&PD
Suz
**Be sure to enter the many giveaways we have going on right now, including one for cash!!
**Disclosure: This post is sponsored by Enjoy Life Foods. In exchange for this review, I have received special perks in the form of products and/or compensation.  All opinions on this blog are my own.