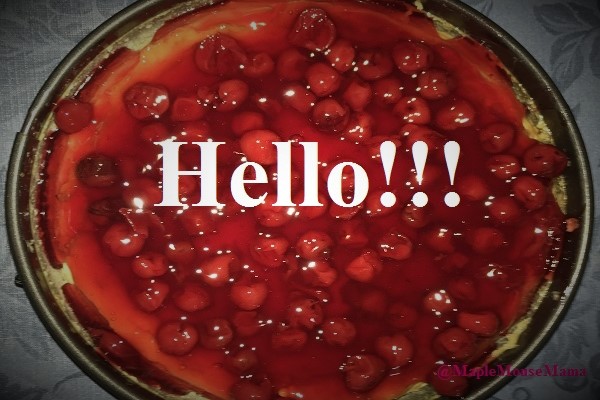 It's no secret that I am not the best baker in the world, but what has been kept a secret for quite some time is this amazing cheesecake recipe that comes from my mother-in-law! Recently, my hubby and some of his family members went on a mission to clean up and pare down his grandma's home.  This great gal is in her nineties and she has accumulated a lot of wonderful items. One of those is this really cool recipe book that was compiled by a family member some time ago.  All of these recipes are there for the picking and my talented man decided to try one of his mama's out.
We love cheesecake in this house. I have even shared a recipe or two before and we still make those, but this particular recipe caught my eye. Maybe because it came from this family keepsake or maybe because it has sour cream in it (yes, in cheesecake), but either way I wanted to try it out.  We did, we loved it and I hope you will too.  Here ya go!
Extraordinaire Cheesecake by Donna Rudge
Ingredients:
3 – 8 oz packages of cream cheese, room temperature

1 cup of white sugar

4 eggs

1 pint of sour cream

1 tsp. of vanilla

1 & ½ cups of graham cracker crumbs

1/3 cup of melted butter

1 Springform Pan

Directions:
Preheat oven to 350 degrees. To help add a bit of moisture to your cheesecake, place an oven safe pan half filled with water on the rack where you will bake your cake.

Make the graham crust by combining the graham cracker crumbs and the melted butter together in a bowl and don't be afraid to use your hands.  Dump your crumb/butter mixture into your spring form pan, making sure to cover the entire bottom.  Press the crumb mixture into the pan firmly.  Firmly. 

Using a clean bowl beat your cream cheese until it is smooth.

Add the sugar gradually, but keep on beating the mixture.

Add the eggs, one at a time and beat the mixture well after each one.

Fold in the sour cream and vanilla and beat until smooth.

Pour the contents of the bowl into your springform pan and tap the pan lightly to allow the batter to settle.

Bake for one hour (60 minutes) at 350° (don't forget to add your pan of water!)

Once your timer has gone off, turn off your stove and open the oven door part way. Allow your cheesecake to cool for twenty minutes or so, while still in the oven. This helps prevent the top from cracking.

Remove from the spring form gently. ( We left the ring on with this cake as it was being taken out of the house)

Toppings are always optional, but for this

cake

we added cherries. We cheated a bit and used a can of premade cherry topping, but you can really put whatever you want. Fresh fruits, caramel, chocolate drizzle etc.  It's all good.
Enjoy!
What is your favourite type of cake?  I love all kinds, but cheesecake is in my top two. 🙂
FT&PD
Suz