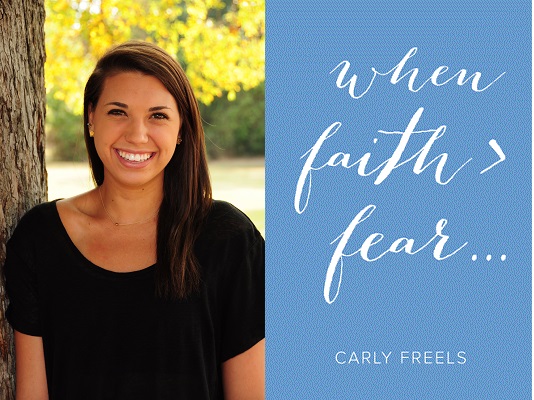 Today I have the pleasure of introducing you to an incredible young lady and share a little bit of her story. Carly is a university student on her way to a promising career as an educator. In her new book, When Faith > Fear, Carly shares her story of a cancer diagnosis at a young age and how she and her very supportive family came through it together.
                                                ******************************************************
1) Hi Carly, can you tell me a little about yourself please? When were you first diagnosed with cancer and what was your reaction?
Hello! My name is Carly Freels. I am currently 21 years old and was born and raised in Houston, Texas. I now attend Texas A&M University and am studying to be an elementary teacher. I was diagnosed with Hodgkin's Lymphoma when I was 17 years old, during my junior year of high school. All my life, up until that point, I had led a health conscious, very active lifestyle. I ate well, worked out daily and took care of myself in anyway I knew how. On April 30th, 2012, my world was completely turned upside down with six letters – cancer.  My family had always been a strong group of believers, but we knew that what was about to come our way would change us forever. Although it may seem silly or even naïve to an outside party, my first question for the doctor was "Can I still play volleyball?" Even though I understood that cancer is one of the most life changing things I could have been exposed to, my current role of a high school girl led me to believe that quitting volleyball was a more devastating loss.
2) How did your relationships with family and friends, as well as your school experience change once you were diagnosed?
Growing up, no matter what stage of my life, I had always loved school. I loved learning, I loved the friendships it formed, I loved the role models you could find in your teachers. I guess this is what led me to study education at A&M. Because of this deep passion to learn, I didn't want this newly found glitch in my bill of health to keep me from these experiences. I wanted to act normal and attend school like every one of my peers. This turned out to not be as easy as I would have imagined though. In my head, I played it out like any other day, walking the halls with my friends, sitting in class taking notes on that week's Calculus lesson, going to after school practice; however, this was not my reality. My days quickly became filled with empathetic stares and conversations, not being able to focus in classes due to all of life's problems weighing on me and the doctor's orders to not participate in volleyball. My friends, my faith and my family were truly my rock through all these wavering circumstances.
3) What were your thoughts and feelings your first time in MD Anderson? How did those experiences change as time went on?
I was blessed to have grown up in Houston, Texas, where there are so many prime medical facilities. The day I walked into MD Anderson for the first time, is truly a day I will never forget. My volleyball coach, who became one of my life mentors, had forewarned me that MD Anderson (as with any hospital) is a place that can either be drowned in darkness or looked at through the light. It was up to you to program your mentality the second you became a patient and decide what impact you would make on the MD Anderson community. Because I was easily the oldest in the pediatric center, I decided that I wanted to take on the role of the encourager to those younger than me. I was just as scared and helpless in the situation; however, I knew that the Lord put me in this place to help others see him in trial, even if that was along side of me. The team I was assigned at MD Anderson, as I'm sure is true of every worker there, is nothing less than top of the line. Every doctor I encountered was not only knowledgeable in his or her area of expertise, but also so welcoming and uplifting to my family and me.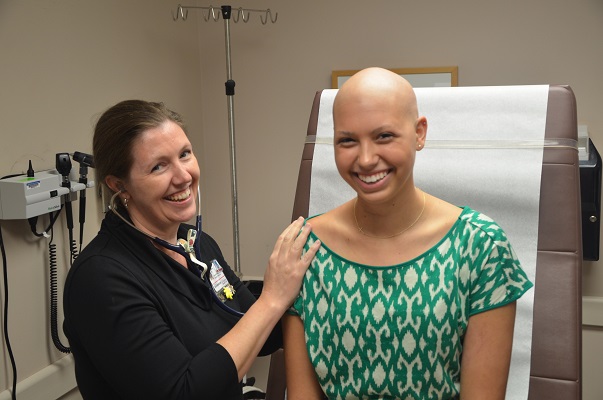 4) What has life been like since you were cured?
Since I have been cured of my cancer, life has gone on as normal with the added fact that I rarely take any day for granted anymore. I realize now that every second is a gift from the Lord and that we are blessed to be healthy and with the ones we love most. I got to continue on and pursue my passion in teaching, studying education at my dream school, Texas A&M University. I still return to MD Anderson bi-annually for routine check ups, but aside from that, I am living the life I have always dreamed.
5) What made you decide to write a book about your battle with cancer?
I decided to write and publish my book, When Faith > Fear, last year. All throughout my treatments, I kept a journal of my thoughts, prayers, fears, etc. and felt like I was supposed to share that with other people in the same situation. All too often, all the tragedies of cancer are given the spotlight, when in reality it should be the successes that are focused on. These are the stories that will provide a source of hope for those currently battling this earthly plague. I also asked each person in my family to contribute a chapter, so that it was less focused on the patient and more well rounded in the stories of everyone involved. The patient, although the most directly affected, is not the only one battling cancer. Everyone who knows and loves them is struggling as well. Because of this, I wanted my whole family to give their advice, thoughts and experiences on the subject.
6) How can we keep up with your story and purchase your book?
You can keep up with my story through:
You can purchase my book via:
Thank you!
Carly,                                                                                                                                                                                                         Hebrews 11:1
                                    ***********************************************************
We'd like to thank Carly for sharing her story with us and encourage you to read When Faith > Fear.  We would love to share any words of encouragement or kindness that you may want to offer Carly, so don't be shy and leave a comment. 🙂
FT&PD
Suz
**Want to read about other inspiring people? Check out our Getting To Know page!
**Please note that any links shared in this post are NOT affiliate links.