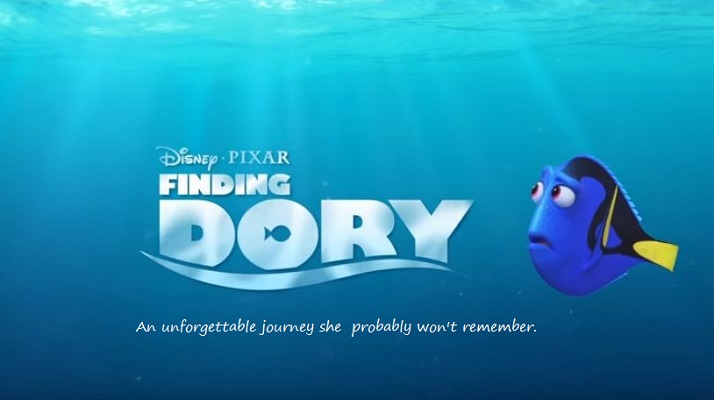 Today is the big day! Disney Pixar brings back a fan favourite and our contributor Jackie Psarianos was there for the advanced screening. Check out what she has to say about Finding Dory.
******************************************
Our beloved little amnesiac Dory returns approximately six months after the adventures of Finding Nemo in a setting away from the big blue sea, off the coast of California. She is accompanied by her friends Nemo, Marlin, Mr. Ray, Crush and Squirt on a journey to the Monterey Marine Life Institute to find her parents Charlie and Jenny.
The most adorable flashback scenes depicted how Dory initially separated from her parents and of how she found her way, surviving growing up in the deep blue sea. After a bonk on the head, bursts of memories return all about "the jewel of Morro Bay, California" which leads Dory on a mission, spurred on by Nemo, to find her family.
Along the way, the trio of Dory, Nemo and Marlin accidentally separate setting them on separate missions leading to the same ultimate goal. Nemo and Marlin meet up with sea lions Rudder and Fluke and Becky the cocky, but helpful loon bird. Dory meets up with crusty, ill-tempered Hank, an octopus with only seven tentacles! Dory refers to Hank as a "septopus". 🙂
At first Hank looks out only for himself in attempts to retrieve Dory's transfer tag, but soon after finds Dory endearing, evoking more sincere attempts to help Dory find her parents.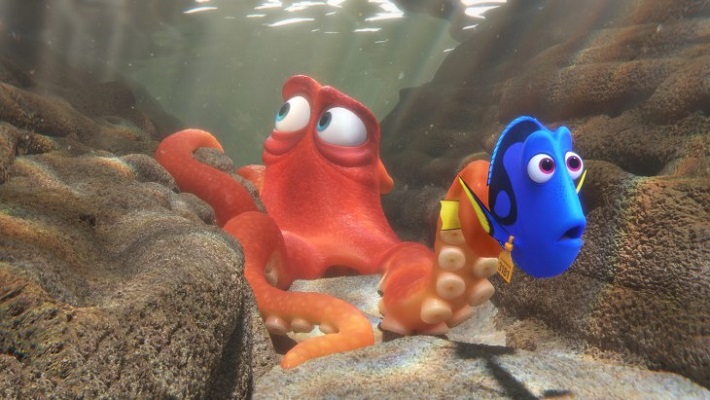 Dory reunites with her "pipe friend" Destiny, a whale shark and her friend Bailey, a beluga whale who embark on a mission using beluga whale echolocation and shark whale echoes- hence "whale talk," to guide Dory through the complex water tunnel to find her parents. Fans of Finding Nemo will remember Dory is bilingual 😉
The movie is filled with sporadic twists and turns,  constant race-the-clock rescue scenarios, injected with humour, and cute little scenes making it apparent the animators had a lot of fun.
Moments of sympathy emerge through Dory's continual blaming of herself for becoming separated from her family and she endears herself to us even more during the flashbacks as a tiny fish-ling with her adorable speech impediment and behavioural disability. The thematic consonance of the movie is to believe in yourself, and to "keep swimming, swimming, swimming, swimming" as of course Dory would do. With the many bright spots along the way this film is perfect for those with a short attention span. 🙂 
A simple plot outlining the importance of family-blood related or not, the importance of love and the inclusion of all those things in ones life. The underlying theme is one where Dory had to learn to live with her disability of short term memory loss which gave her a low self esteem, guilt and a feeling of not really belonging anywhere. The story also brings forth the concern Dory's parents have about her well being, and what will happen to her after they are gone, a direct parallel to the struggles of real life parents of special needs children. This is a successful attempt by Pixar and Walt Disney Studios to take a look at raising a child with a disability through a parental lens.
Directors: Andrew Stanton, Angus MacLane
Production Companies: Walt Disney Pictures and Pixar
Ellen DeGeneres as Dory
Hayden Rolence as Nemo
Albert Brooks as Marlin
Ed O'Neill as Hank
Diane Keaton as Jenny
Eugene Levy as Charlie
Ty Burrell as Bailey
Kaitlin Olson as Destiny
Finding Dory's realistic look at the daily struggles of special needs families was accurate. The emotional moments of this depiction were lifted through the consistent lighthearted moments throughout.
Jackie
************************************
I was fortunate to see the first 33 minutes of Finding Dory when I attended the Disney Social Media Moms Celebration last month and after reading Jackie's post, I am so pumped for the rest! Will you be taking in a showing of Finding Dory?
FT&PD
Suz
**To read more of Jackie's movie reviews have a peek here!
**Enter to win a Finding Dory Tsum Tsum Plus Set here!