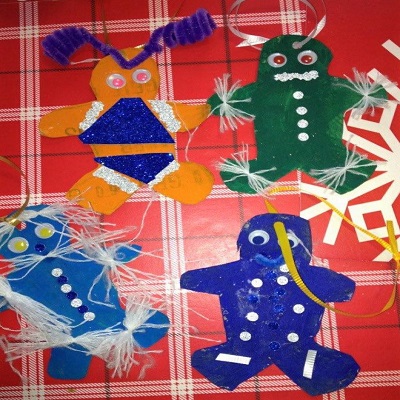 A couple of years ago my kiddos and I made these adorable and sweet-smelling gingerbread men ornaments and this year we once again put them on the tree. They were a lot of fun to make and each year when we unpack the tree decorations we make a bet to see if they remain as, ah, fragrant as they were when we first made them. 🙂 Some of the prep work will need to be done by someone responsible enough to use big scissors, but the rest is a lot of fun and very easy for children to do. Most of the supplies came from the dollar store with a couple from the bulk food store.  Without further ado I give you Sandpaper Gingerbread Man Ornaments!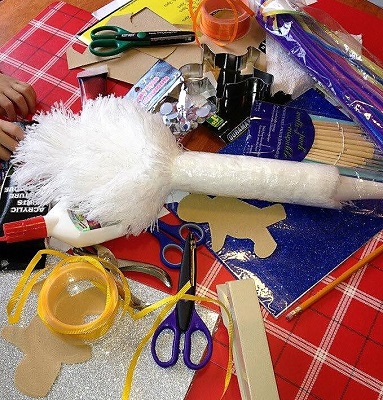 Supplies You Will Need:
small sheets of sandpaper

coloured construction paper or

paint

ribbon

googly eyes

bits of material

assorted items to decorate with (we even used feathers!)

glue

3- 4 sticks of cinnamon

a couple of cloves of nutmeg

a small piece of ginger root

scissors

hole punch

paint brush

gloves (optional)
Instructions:
The first thing I would do is cut out a template for the size of gingerbread man you want.  Ours are about five inches tall and three inches wide.  You can cut out your gingerbread men before hand or allow your children do so, but that will depend on their age.  You can create a template on a plain piece of paper or save time and use the construction paper.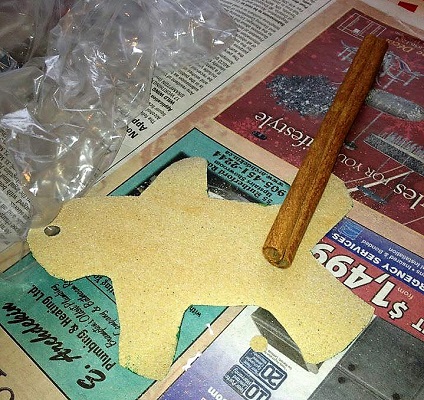 Once you have your template, trace it onto the smoothest side of the sandpaper, if there is one.  The sandpaper I bought from the dollar store was rough on both sides, but it was a fine grade, so it was easy enough to work with. Cut out as many gingerbread men as you plan to make so they are ready for you to use.
Once your men are cut out, decide if you want to paint one side or use the coloured paper. We choose to paint ours, but you will need to factor in drying time so if your kiddos are eager to work on their craft you might prefer to use the paper. If you paint, pick the colour you want one side of the man to be and paint him. If you use the paper, you will need to cut out another gingerbread man and glue one sandpaper man to one coloured paper man.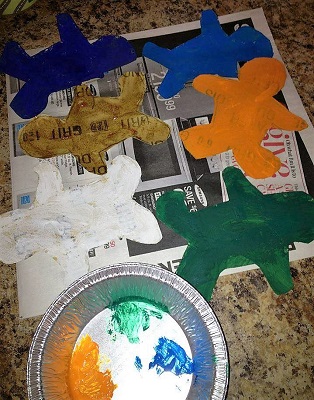 Once your man is ready, use the hole punch to make a hole at the top of his head for ribbon.
Now comes the smelly part and you may want to put on gloves. 😉 Take a stick of cinnamon and gently, but firmly, rub it against the sandpaper back of your gingerbread man. Rub it over the entire piece and don't be shy! You will notice that the fragrance of the cinnamon is rubbing off into the sandpaper! You can add the other spices, if you want or use them on different men. We used more than one spice to increase the scent and a couple of years later they are still fragrant. 🙂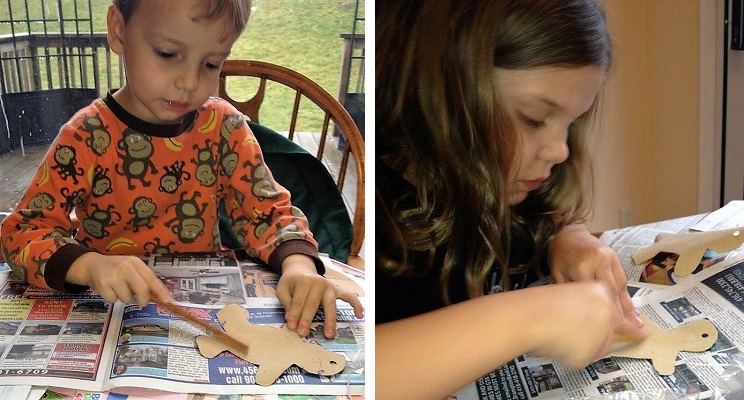 Once you have finished with the spices you can decorate the front of your man. Glue on googly eyes, use either paint, paper or material to create his nose and mouth and then dress your gingerbread man up! You can create an outfit, add little dots for buttons or even just leave him naked. That part is up to you. 🙂
Finish your gingerbread man off with a piece of ribbon tied through the hole in the top, so he can hang from your tree and you're done!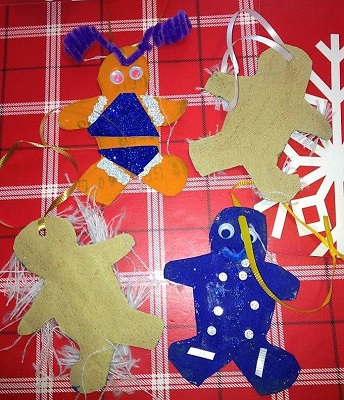 These cute little guys make great gift tags as well. I also found that the scent will last longer if you store them in a ziplock sandwich baggie when they are not on your tree.
What do you think; pretty easy and cute too, huh? 😉
Merry Christmas!
FT&PD
Suz