What's loud, blue and resides in a warehouse? Start "brainstorming" and I bet you'll come up with the Imagination Movers! One way to make my kiddos happy when they are stuck inside is to put on music, music videos or a show with music in it. Are you catching my drift here? Music equals happy children, which one hundred percent of the time equals happy parents. 🙂  The Imagination Movers have that all figured out and know how to get your kiddos to "jump up, get down, stand up & turn around!"  You might even want to get in on the action with them.
This fall, Disney Junior and the Emmy Award-winning Imagination Movers will bring a thrilling rock concert spectacle to kids and parents across Canada. Stopping in 16 cities from coast to coast, the Imagination Movers 'Back in Blue' Tour kicks off in the west on Saturday, September 13th in Victoria, BC, and concludes on the east coast on Thursday, October 2 in Glace Bay, NS. The fun-filled show features the Movers' trademark catchy pop rock, lots of audience participation, an insane number of high fives and even a healthy dose of flying toilet paper. There will be guitar solos, drum solos, corny jokes and even an appearance by the Movers' little buddy, Warehouse Mouse.
The Imagination Movers 'Back in Blue' Concert Tour features bandmates Rich Collins, Scott Durbin, Dave Poche and Scott "Smitty" Smith in their iconic blue jumpsuits performing songs from the hit Disney Junior series and their chart-topping album "Back In Blue," which debuted as the No. 1 Children's Album on iTunes in Canada.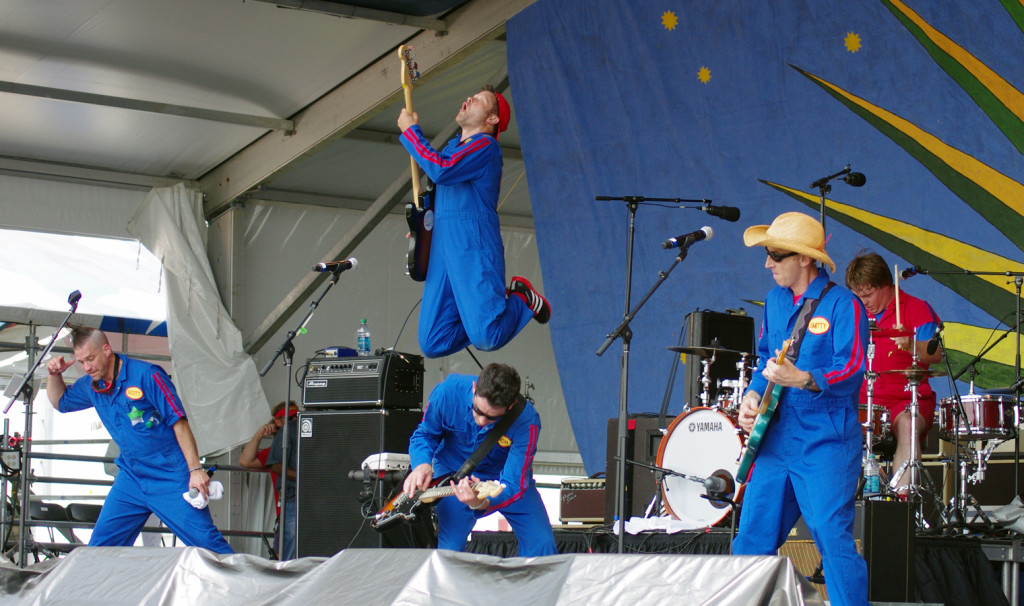 As a parent I really like that the Imagination Movers inspire children to not only be physically active, but mentally as well.  You will never be lonely with a great imagination! For show information and to buy tickets head on over and see the Imagination Movers.
Now comes the really awesome part; the giveaway! One lucky mover will win a FAMILY PACK OF FOUR TICKETS and an autographed 8×10 photo to a show in one of the following locations:
Victoria, BC

Vancouver, BC

Kelowna, BC

Calgary, AB

Medicine Hat, AB

Moose Jaw, SK

Winnipeg, MB

Thunder Bay, ON

Peterborough, ON

London, ON

Kingston, ON

Sudbury, ON (4:30 pm show only)

Mississauga,ON

Ottawa, ON

Glace Bay, NS
A second reader will win an IMAGINATION MOVERS BUNDLE PACK containing a digital download of the Movers' latest album Back In Blue, a Movers T-shirt, and an autographed postcard. Just enter below using the Rafflecopter widget.  This giveaway is open to Canadian residents only, ages 18 and older. Please make sure to read the terms and conditions and Good Luck!
Want even more chances to win one of these great Imagination Movers prize packs? Check out my fellow bloggers and their fabulous giveaways! You can enter as many of the giveaways as you like, but are only eligible for one prize.
Put on your thinking caps and get out your dancing shoes and come see the Imagination Movers!
FT&PD
Suz
Disclosure: MapleMouseMama received free tickets to see the Imagination Movers in exchange for sharing their awesome tour!  Opinions are all mine and if you don't believe me come and check out my happy children.