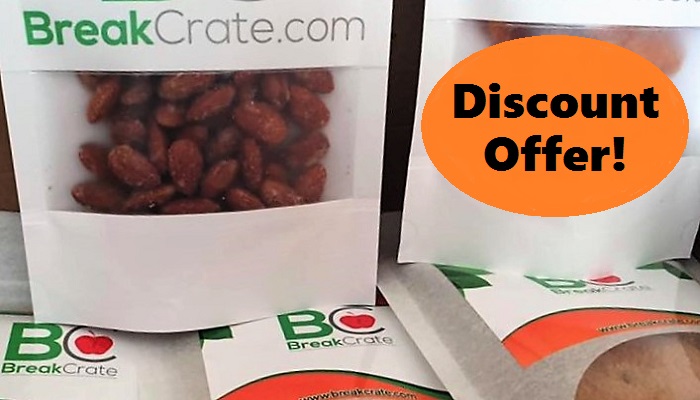 With summer in full swing now that Canada Day has come and gone (although the parties will continue all year long!),  thoughts may start to turn to more practical things like chores, how to keep the kids busy and grocery shopping. I know, I know, it is kind of boring to think about, but life gets in the way sometimes. You just have to roll with it. One way to do that is to try something new, like BreakCrate!
You may recall reading about this really cool monthly subscription box service in this post last month. BreakCrate is a convenient way to have delicious snacks, that are also healthy, delivered to your home or office every month. This means you can have a yummy treat on hand whenever you want it, without going to the store every time. 
BreakCrate is a Canadian company that offers a selection of well over 100 snacks to keep you satisfied. Your monthly order can have five or ten items that range from sweet to savoury, baked and even gluten-free! The wholesome options include things like nuts, crackers, dried fruit, chocolate goodies and more. Each package contains two to three servings so you always have something on hand. 

BreakCrate even has offers that are more suitable for teams, so that you have lots of options and enough for a large group of people. One time orders can be accommodated as well.  Monthly plans start at just $19.99 and even include free shipping (some exceptions apply.) Take some time to have a peek at the BreakCrate site and see what delightful treats you would indulge in.
The Offer!
For a limited time, MapleMouseMama readers can take advantage of a coupon code when they place an order with BreakCrate! (Please note that it only applies to monthly subscriptions for 5 or 10 snacks & for one-time orders for 5 or 10 snacks.) Just use this code Q873T9WXKR when you place your order to receive a 10% savings! This coupon is only valid from 07/02 to 07/15.
What item would you order from BreakCrate? I would love to try out the BlueBerry Greek Yogurt Pretzels. 🙂
FT&PD
Suz