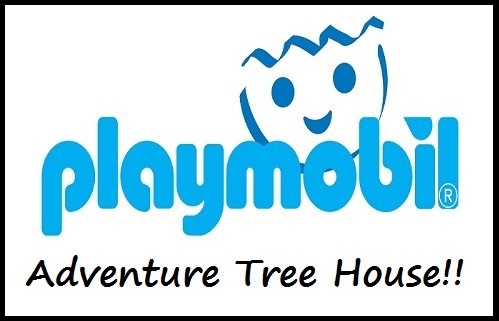 One of the best things about Playmobil, toys known for their imaginative play and iconic figures, is that it is great for just about any age, any gender. Every time my kids have had the chance to check out a Playmobil set, they work on it together, mostly in harmony. 🙂 Ahh, a mama's dream come true!  The fun doesn't end with the completion of a playset either, or no.  With the cute figures that come in each set (with additional ones available to buy separately) your child can play for hours, creating new situations as they go.
Playmobil recently launched its new Wild Life Themed sets where kids can journey deep into the forest and engage with animals in their natural habitat! Fun, huh?!  Complete with everything they need to build a fort fit for the king of the jungle, Playmobil's Adventure Tree House allows kids to create and explore the wonders of nature at their fingertips! This set includes a tree house with grass platforms, a rope bridge, two figures as well as several animals like bears, foxes, fish and even a bald eagle!  There are a ton of accessories to spruce up your camp with as well.
We were lucky to receive our very own set from Playmobil and my son tore into it as soon as he opened the box! It took him awhile to put it all together, but he had a blast! I enjoyed watching him concentrate, paying attention to the details.  It was playtime at it's finest. ♥ Retailing for $79.99 CND, the Playmobil Adventure Tree House set can be purchased directly online! It will give you and your kiddos hours of fun!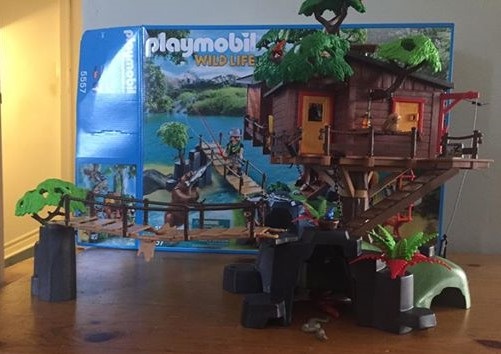 Find all the different Playmobil sets online and keep up to date on Facebook, Twitter and Instagram! 
Do you or your children like Playmobil? What is your favourite set so far? 
FT&PD
Suz
**Click here for all the #BloggersFete 2016 celebration news, which starts on August 1st! Among the many prizes being given away is a Playmobil Adventure Tree House Playset!!