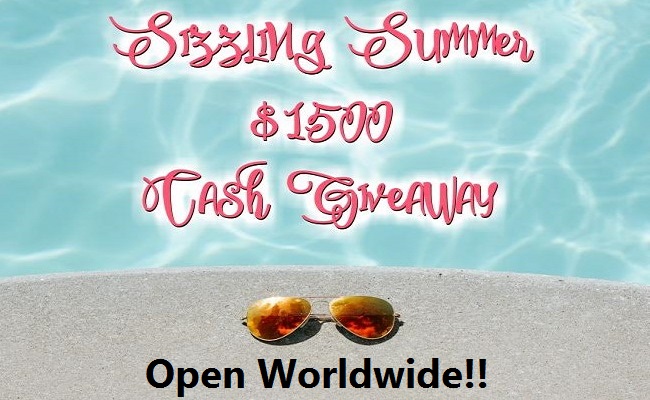 This weekend is the unofficial start to the summer. Whether you are spending it at a family cottage, boating on a beautiful lake, baking on a hot beach or stay-cationing it in the city, I hope you are making the most of it. Crank up the barbecue and have a nice steak or check out the early corn from the farmer's market. Don't forget to have your favourite libation on hand to toast the best time of the year! And while you are enjoying the warm-ish weather, think about this: what would you do this summer if you won a huge cash prize?
To celebrate the sun, heat and all that it brings with it, I have teamed up with a bunch of great social media influencers to bring you this sizzler of a giveaway! The Sizzling Summer $1500 PayPal Giveaway starts today! Just in time for vacation or stay-cation planning to really start, you can dream about how you will spend your winnings!
The Giveaway
Three very lucky readers are going to win $500 each in our special Sizzling Summer Giveaway!! This giveaway is open WORLDWIDE and will end on June 30th, 2017 at 11:59pm EST. You can enter daily for extra chances to win! To be eligible to win just complete the Rafflecopter below with your qualifying answers. Make sure you read the terms and conditions on the widget. The winners will be notified by our host blog, Full Lives Reviews. Good luck!
Please share with us what your plans are for enjoying the gorgeous summer weather. Do you cottage, camp, glamp or hang out in the city? Whatever you do, enjoy!
FT&PD
Suz
**Make sure you to check out our other amazing giveaways!!