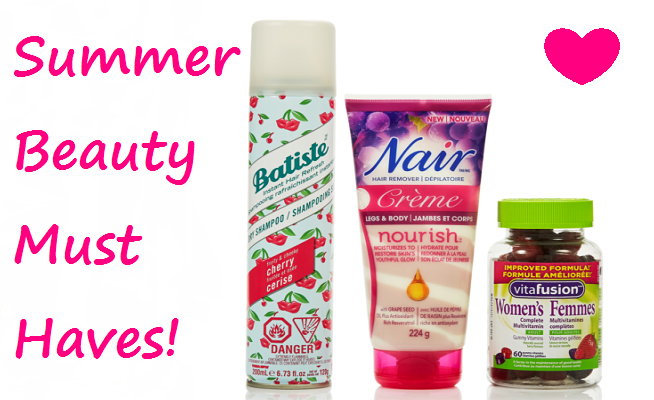 I love the warm summer months just as much as the next guy, but there is something I miss: being able to hide under a winter hat when I haven't washed my hair that day. 🙂 And I am guilty of going all winter long without shaving my legs. You may be thinking "Yuck!" but as I get older thankfully the hair doesn't grow as fast and there just seems to be less of it. Plus, it is a great extra layer of warmth in the cold, harsh winter temps. 😉 But the sunshine means heat and heat means sweating if I were to sport a winter hat and long pants all summer long, so guess what? Hair must be dealt with. Every female knows this.
But all that extra attention our various forms of hair need in the summer means less time for other things. It can be a pain to shampoo, condition and blow-dry your hair every day and shaving has this sometimes painful side effect -nicks and cuts. This year, I'm vowing to sleep more and shave… never! Seriously! I'm also going dry… dry shampoo that is. You want to know more, don't you? 🙂
Let's start with your locks. My secret weapon for fabulous hair is Batiste Dry Shampoo. If you haven't heard of dry shampoo, I suggest you run to pick up a can of Batiste. It works to instantly revive oily hair, leaving it looking and smelling clean and fresh. No wet washing required and most importantly no blow drying. If I have a few extra minutes to spare, I sometimes re-style my hair but it's not necessary. Batiste comes in a variety of fragrances – New Batiste Dry Shampoo Cherry is perfect for summer with top notes of pear, melon, kiwi and wildberry!
If you've never used dry shampoo before, don't worry. It's easy to use. Simply shake the can well. Hold it 30 cm away from your hair, section & spray into roots. Massage thoroughly with fingertips then brush and style as desired. I have been using Batiste Dry Shampoo for a while now and I absolutely love it. It is definitely one of those must haves in your beauty arsenal. 
Then there's that hair that's got to go. I'm talking about the stubble on your legs that leaves you cringing when you reach for that pair of shorts or even worse the bathing suit you've been hiding in the back of your closet all winter. I'm trading my razor this summer for the new Nair Nourish Crème for Legs & Body. A hair remover cream with Grape Seed Oil plus Antioxidant Rich Resveratrol, it removes hair in as little as three minutes (amazing!) while moisturizing to restore skin's youthful glow, leaving you with smooth skin for days longer than shaving. Did you read that? Days!
**Tip: Stock up! Keep a tube of Nair in your bathroom at home, in the bathroom at the cottage/cabin/summer home and a third one in your gym bag. The minute you spot the stubble, you'll have it on hand. All it takes is three minutes and a quick shower or damp cloth to rinse!
Am I your hair hero or what? This summer it's all about getting your beauty rest, looking fabulous, feeling healthy and rocking those cute shorts.
Oh, one last, but very important thing. Between the summer heat and a jam-packed schedule, it's easy to let healthy eating slip by the wayside. To ensure your body gets the nutrients it needs, try adding a multivitamin to your daily health and beauty routine. A complete multivitamin such as the Vitafusion Women's Complete Multivitamin is a great option. It's specially formulated to meet our needs and comes in an easy-to-take, delicious gummy. It includes Biotin and helps maintain hair, skin and nail health – ensuring you glow from the inside out this summer!
Now it's your turn. What are some of your favourite time-saving beauty products that help you get and stay summer ready?
FT&PD
Suz
 Disclosure: I am part of the Church & Dwight 2017 Ambassador program and as such receive compensation in the form of product and/or payment but as always my opinion is my own.