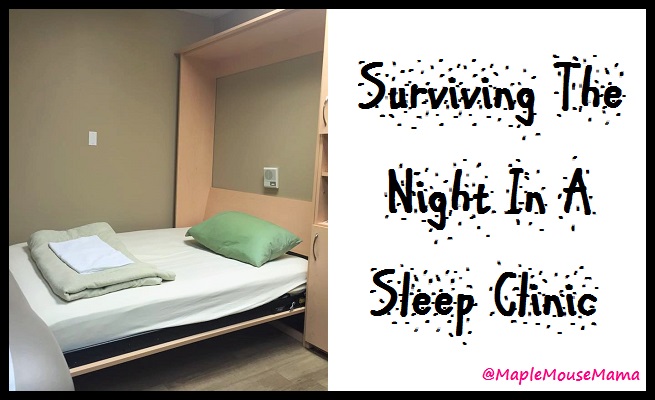 For years I have watched my hubby pack a small bag up and head for an overnight visit to the sleep clinic. For health reasons, he has to have the test every so often, but after that first appointment, almost twenty years ago, I kind of stopped paying attention to it. That is until my doctor said I needed to have it done.  To quote a famous bear, "Oh, bother."  Spend the night in a sleep clinic? Do I have to? (insert whine here and not the kind you can drink.)
I put off making the appointment for several months. I know I snore, but I don't have sleep apnea, so what's the big deal? Okay, maybe waking up four or five times a night is not a good thing, especially when it is hard to fall back asleep, but doesn't every middle aged, menopausal woman have this problem? Apparently not. So, I reluctantly made my appointment and waited it out.
My first visit to the sleep clinic was during the day and it was just an assessment.  The very nice doctor asked a bunch of questions after reading over the paperwork I completed. After a chat the good doctor had ascertained that yes, a night in the clinic would be in order. So that appointment was booked. I was surprised to see that a hefty fine would be charged if I canceled my appointment with less than four full days notice.  I guess this is to dissuade people, like me, from getting cold fee and backing out. And trust me, I almost did. The idea of sleeping with people watching me the entire night was kind of creepy and I was not all together sure I would not do something gross or embarrassing.  In this day of YouTube, I did not want my fifteen minutes of fame to be the result of some act I had no control over.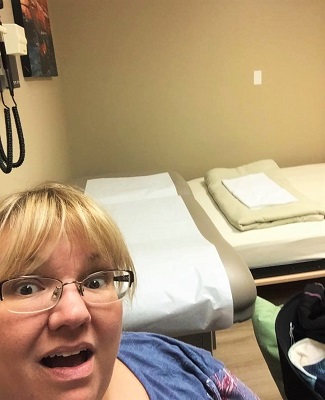 The Visit
Kind of sounds like a 21st century horror movie, huh? Well, in my mind it was. Check in was at 8pm on the night of my appointment and when I arrived at the normally bustling medical building, it was deserted. Creepy moment number one. After getting my gear into the building and onto the elevator, I couldn't help but notice how old and decrepit the building was.  It reminded me of the insane asylum in "Pretty Little Liars." Creepy moment number 2. As I slowly made my way up to the next level, I had just one thought; "Thank God this thing is not going down to the basement. I'd be outta here so fast, I would rival the record of this year's Olympic Gold Medalists."
At the check in I was very happy to see that there were several other patients there to spend the night. I would not be alone! I swear my heart rate went down a few points with this knowledge. Maybe the night would not be so bad after all.
I was brought to a room that was kind of like a dorm room. Not too big, but with a nice bed that folded up into the wall, a desk and chair and exam table.  I had no idea these rooms were used during the day for patient visits! I thought that was pretty clever. 🙂 My sleep technician, Shirley let me know that she would be back to set me up, but in the meantime I could get ready for bed. That had been my first dilemma when getting ready for this appointment.  What should I wear to bed? I couldn't bring my normal sleepwear. It was stretched out of shape and had holes in it! Ultimately I decided to sleep in an old t-shirt and some yoga type pants. This all worked well until I had to decide: bra or no bra? I never sleep in a bra at home, but this place was different.  I would be videotaped! So, the bra stayed on.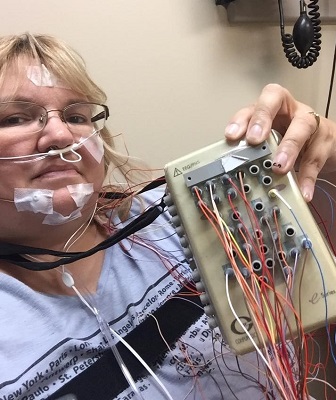 About ten minutes later Shirley came in and spent about twenty minutes hooking me up! Over twenty electrodes were put on my head, face, upper body and legs.  It wasn't uncomfortable, just strange and the time flew by as I peppered Shirley with one question after the other. She was very accommodating. 🙂 I can imagine it gets kind of boring in a sleep clinic at night. There is no one to chat with because they are all asleep!
Shortly after that I was told it was bedtime. Far earlier than I am typically in bed, ten pm was the magic hour at this place.  Shirley had to help me get situated in the bed and then she hooked me up. I was pretty tired at this point, but I had high hopes of sleeping through the night. Alas, this was not meant to be. With about twenty wires stuck in odd places, it is very difficult to move around. I waited as long as I could, which was about thirty minutes, before buzzing Shirley to help me turn over.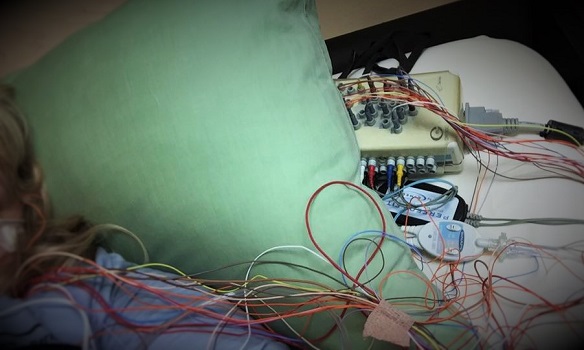 For the next while,which felt like hours, I just lay there. I could not fall asleep no matter how many sheep I counted or prayers I said.  The longer I lay awake, the more aware of my heart I became. And it was racing. I was having a panic attack! I had one moment of mirth thinking that this would really play havoc with their monitoring machines, but despite the humour I could not get myself to relax and calm down. The next thing to hit me was the tightness in my chest. Holy moly, you can imagine what I was thinking. Fortunately, I was not having a heart attack. I was having a brassiere attack!
For those of you who sleep in a bra, you may be thinking I was just a little nuts, but after the three plus hour mark of not falling asleep, I had to get that damn bra off! As soon as I sat up on the edge of the bed, Shirley was through the door, asking me what was wrong. I was embarrassed to say my bra, but I had no choice. Right away she agreed that it needed to come off and that was when my fear of being on YouTube came back to haunt me. Due to the wires attached to my hand I could not undo my own bra!! I had to ask Shirley to help me!! To her credit, she not only helped me, she made me feel it was a completely normal thing for her to do. 🙂
After loosening my bra (it could not be completely removed due to the wires attached all over me) I fell asleep. But then, I woke up. On and off, at least three more times. I still could not sleep! At one point I made my way to the bathroom and when leaning on the sink to wash my hands, I almost knocked over the stand the sink was on! If that ceramic bowl had tipped over, that would have been the end for me. :- ) I had mentioned to Shirley that I used a fan at home and the next thing I knew, she was hauling one in! She was really so nice to me and so accommodating. I wanted the night to be successful for her, if not for me. 🙂 I do recall finally waking up, giving in and getting up.  When Shirley came in I asked her if they had enough data for me to leave then, at 5am, rather than wait until 6:30am, the normal wake up time. Unfortunately they did not and so it was back to bed for me. But, no sleep.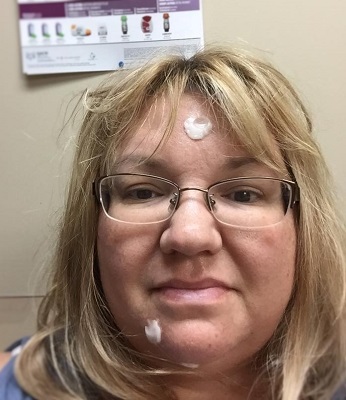 Later that morning, after being released and told the glue used to attached the electrodes would come out of my hair easily, I sat in the shower and washed my hair. Four times, to be exact. The glue was soft and gummy and there was so much of it! I know that lots of people leave a sleep clinic and go straight into work, but with the amount of guck in my hair, there was no way I was going anywhere without a shower.
All in all, my night in the sleep clinic was not nearly as scary as I thought it would be, but it was kind of boring. It made sense that I would not be able to sleep very well because I had built it up in my mind to be a nerve wracking event. And it really wasn't. Now I just have to hope I don't have to go back for a re-do! 
Have you ever spent the night in a sleep clinic?
FT&PD
Suz
**Check out our Giveaways and Reviews page for some wonderful prizes!