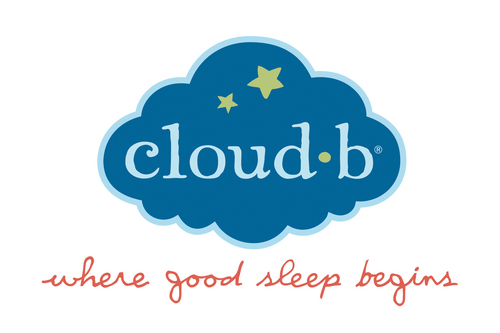 Getting a good night's sleep is all most of us really want, but when you have a new baby in the house or even young children, it can be tough to get that much needed shut-eye. With all of the tips and tricks out there, one of the things I have found to be the most successful with my own kiddos is to give them a sweet friend to drift off with.  Depending on the age of your child, this could be anything from a soft and cuddly stuffie to something that makes a soothing noise or has a comforting light in it. Cloud b can solve all of those issues in a heartbeat! 
As we have shared with you before (here and here), Cloud b has a wide range of adorable, multi-function products to keep your baby happy. A happy baby or even young child, equals a happy parent.  An infant or toddler that falls asleep and stays that way equals a well rested mom and dad. 🙂 The newest addition to the Cloud b family is the darling Peaceful Panda, the perfect crib accessory that will make the transition from the womb to the crib and beyond, as easy as possible.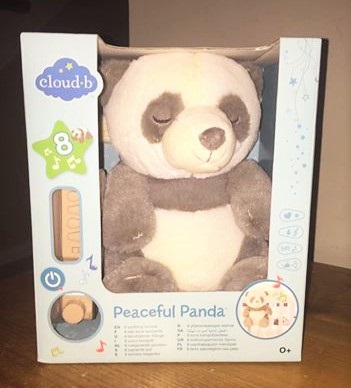 The Peaceful Panda joins it's many Cloud b brothers and sisters in making your child feel as comfortable as possible as they drift off.  It plays eight soothing sounds that instantly calm your mind and make your eyelids heavy.  Among them are Mother's Heartbeat, Ocean Surf, Classical Lullaby and Whale Songs.  It is hard to pick a favourite! The sound machine is hidden within the Peaceful Panda so it is safe for your child to hold, but it can also be removed.
I like that the Peaceful Panda can be attached to the side of the crib, using a Velcro strap and keeping baby safe. The volume is adjustable and it even comes with a timer with auto shut-off.  Depending on your child's habits for waking during the night, you can set the timer for 23 or 45 minutes. No more tip toeing in to wind up the musical box. 🙂  One thing that is often not considered with toys, especially stuffies, is how to clean them. This is so important when you have an item that can be soiled easily.  Cloud b solves that problem by making the Peaceful Panda machine washable.  Just remove the sound-box and she can go in the dryer too!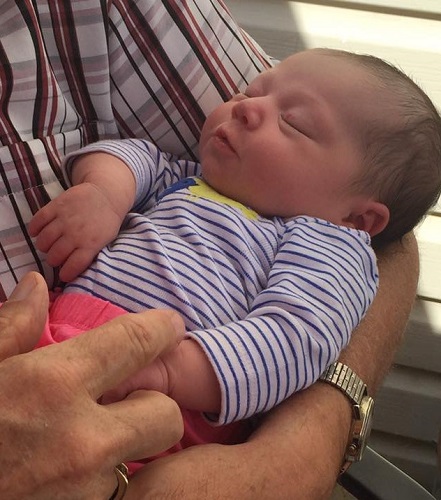 My new great-niece was the perfect candidate to try out the Peaceful Panda and her mama loved it! Even at just a few weeks old, the calming sounds elicited a sweet smile from Skyler and she was soon snoozing away. I can't wait for her to be old enough to hold her panda as well. 🙂  The suggested age for the Peaceful Panda is newborn and up, but I know a few, ahem, older people who loved her just as much. ♥
Did you have a favourite nighttime friend when you were young?
FT&PD
Suz