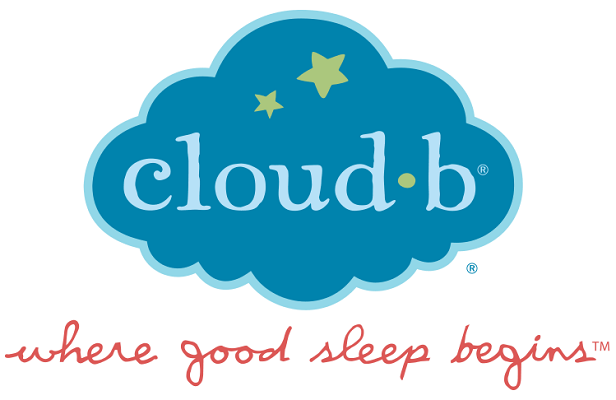 Bedtime can be a challenge for the young and old alike, but with little ones the challenges are not just getting them into bed, but also staying there, long after the man in the moon has gone to never never land. My children were both midnight walkers. While they have never truly sleep walked, they have both been known to climb out of their own beds and make their way to my room to snuggle in after a bad dream. Once in a while it is to have a chat (seriously) and occasionally they just can't sleep.  Funny thing is both my kiddos have a favourite stuffie that goes with them to sleepovers and nana's house, but that much loved friend doesn't help them return to never never land for some much needed shut eye. What's a mama to do?
Cloud B, that's what! This adorable company has one main goal and that is "To create innovative and distinctive products that help children sleep safely and soundly through all stages of their development." Now that sounds like a plan!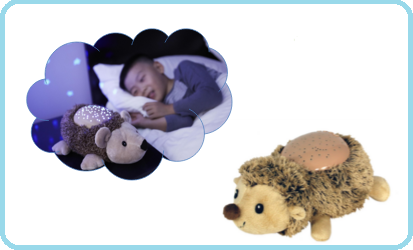 Since opening in 2002, Cloud B has mastered the art of creating plush toys that are beautiful to look at, soft and cuddly to touch and help foster good sleeping habits in children. With their extensive array of plush toys to choose from, you are sure to find something your child will love. The Sight Collection offers a soft, warm light to chase away any fears in the darkness and the Sound Collection will soothe your baby when they cry out. There is even a sleep trainer among the furry friends! The Stay Asleep Buddies are interactive plush pals that use gentle melodies and glowing lights to help children distinguish between playtime and sleep time. They can be programmed to help your kiddo develop a healthy sleep routine, which will help mom and dad have one too.
Cloud B sleep friends come in many shapes, sizes and colours. With the hoppy little frogs, adorable lambs, happy little chameleons and cute bunnies to choose from, your child could have their own private zoo! 🙂   They carry some wonderful accessories no new parent should be without, like rattles and soft "lovie" blankets.  Any one of these would make the perfect gift!  Join us on Cloud B to see what all the fuss is about and get your very own "plush with a purpose." 

The #BloggersFete Giveaway!
We are excited to share that Cloud B is a #BloggersFete sponsor this year and has generously provided a prize for an event.  One lucky reader will get to take home a Dream Buddies Bunny of their very own. BloggersFete runs until August 10th, when we wrap things up with a day of fun on Facebook. Make sure to follow the Cloud B Facebook page and follow #BloggersFete for your opportunity to win!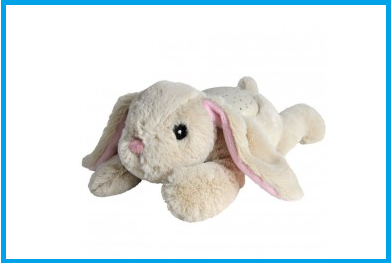 Check out the Facebook page for our wrap up party and make sure to let us know if you can attend.  Just click on the link!
Get ready for the party by having a look-see at the beautiful sleep aids that Cloud B carries by visiting them here and tell me which one is your favourite. I love so many of them, but the turtles are mine. ♥
FT&PD
Suz
**Click here for all the #BloggersFete 2016 celebration news, including sponsors posts, prizing and more!!