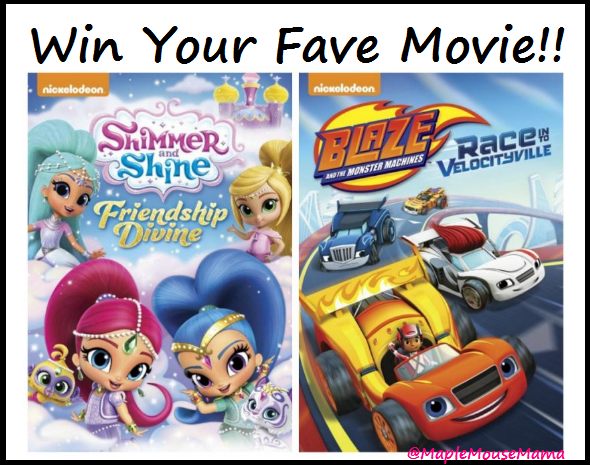 One of the things I love about my two very different children is the thing that we all have in common – we all love to spend time together, even if it is just watching a movie. Oh sure, they have their own interests and hobbies. Emily loves, loves, loves to read. Her books are like her little children. She takes very good care of them, rereads them from time to time and shares the plots and characters with anyone who will listen. She loves to read. 🙂 William's favourite pastime is to draw or colour! He is so creative too. He is always making comic strips and little storyboards up. I can see this kid working for Disney someday. ♥
But back to the movies.  We have enjoyed a variety of titles together over the years and I don't see that changing anytime soon.  It can be a musical, a comedy or our favourite, animated shows; we love them all. Like the following two movies. Both very different, but ones we love together.
Shimmer and Shine: Friendship Divine 
In the third DVD release for Nickelodeon's hit animated preschool series, the genies-in-training Shimmer and Shine encounter some fantastical new friends including spunky mermaid Nila, Ice Genie Layla, Crystal Queen Empress Caliana and more. Fans of this enchanting show will have a blast as they join Shimmer, Shine and their best friend Leah on eight thrilling adventures as they get to know the ruling princess of Zahramay Falls, as well as the scheming sorceress Zeta. Each episode of Shimmer and Shine highlights the importance of teamwork, resilience and overcoming obstacles.
Blaze and the Monster Machines: Race Into Velocityville
Speed into the race car world of Velocityville for 6 high-octane Blaze and the Monster Machines adventures! Join Blaze and his friends as they transform into aerodynamic race cars and accelerate down a race track of all-new adventures!
The Giveaway
Two lucky MapleMouseMama readers are going to win their choice of either the Shimmer and Shine or Blaze and the Monster Machine DVDs mentioned above. To be eligible to win just complete the Rafflecopter below with your qualifying answers. This giveaway is open to Canadian residents, ages 18 and older. Please read our giveaway rules before entering.This giveaway ends on February 24th, 2017 at 11:59pm.  Good luck!
Which movie title would you choose for your little prince or princess?
FT&PD
Suz