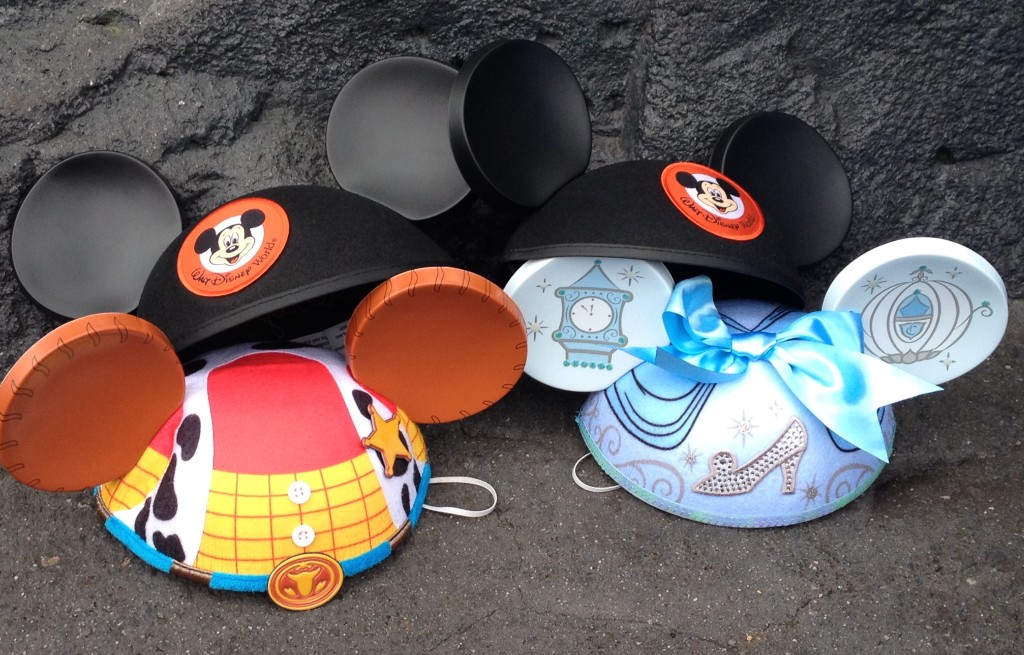 Traveling with food allergies can be tricky, whether you are visiting a park for the day or flying off to some far away land. It's not just the food, or lack thereof that you need to concern yourself with. It's the cleanliness of the areas immediately surrounding the person with the allergy. It's the accessibility to emergency medical care, if needed. And even the need to be extra vigilant can cause more stress than usual.
But vacations, big or small, are meant to be fun. The best way to handle traveling with food allergies is to prepare ahead of time.  There is a lot you can do to ensure your down time is enjoyed to the fullest and by every member of your family. Here's what we did to prepare for our recent family vacation to Walt Disney World.
1) Make a list, a lot of lists.
I am a list maker by nature. I make them for everything from groceries to gift ideas and everything in between. The lists I made for our trip included the usual ones like clothing we would need and the things we wanted to do. The most important list was the one that contained how many EpiPens we had, who was going to hold them and where they would be kept on that person. (For example my daughter and I both wore cross body bags and carried Epi's for my son.)
**Disney World now carries stock EpiPens in their resorts, parks and cruise ships, which is absolutely fabulous! You can find the locations on park maps, but you should never, ever rely on there being a stock auto-injector around "just in case." Always travel with your own.
2) If flying, contact the airline.
On our trip we flew to Orlando. I have heard horror stories galore about flying with food allergies, but since the alternative to a three hour flight with two kids who have short attention spans was a two day drive with those same kiddos, we decided to fly.  I had researched the airlines we would be choosing from so I was prepared. Every airline is different so make sure you research thoroughly. We flew with Air Canada and as per their allergy guidelines I contacted their Medical Assistance Desk 48 hours before our flight to request a buffer zone. While this is not a guarantee that you are completely safe from your allergen, it is better than nothing. 
Air Canada's policy that pertained to us:
If you have a severe allergy to peanuts or nuts you may request that a buffer zone* be set up around your seat in order to help avoid the risk of exposure. Here's what you need to know:
Only the other customers seated within the buffer zone* will be briefed on board by the flight attendant prior to departure.

They will be informed that they must not consume nut/peanut products.

They will not be offered any Air Canada Café items containing nuts/peanuts.

There will not be a general announcement to all customers about the existence of a buffer zone* or about the customer with severe nut/peanut allergies.
On top of having the buffer zone and carrying our own EpiPens (we are never without them) I also brought our own safe snacks and baby wipes. I brought tons of baby wipes to use during our trip because you can never be too careful.  After boarding our flights we made sure to use wipes to clean William's seat and tray area as well as those around him.
3) Research places to eat.
If you are traveling to a place like Disney World it is easier to plan meals than it would be when on a road trip. That said it is important to check out all the possible places you may dine, even if that means pulling out a map and checking out the towns you will visit on-line. More and more restaurants are becoming food allergy friendly, but you do not want to be unprepared. Traveling with food allergies really does take a lot of work, but you will enjoy your vacation a lot more if you prepare ahead of time.
With Disney World specifically, I was able to check out the menus of every restaurant we wanted to dine at. We pre-purchased the Disney Dining Plan to save money on meals and I made reservations for each of our big meals for the day. (Note: you can make advanced reservations without the dining plan as well).  With every reservation my son's food allergies were also noted just in case we forgot to mention it when we first checked in. Disney has a Special Dietary Requests page that is a must see for guidance when traveling with food allergies.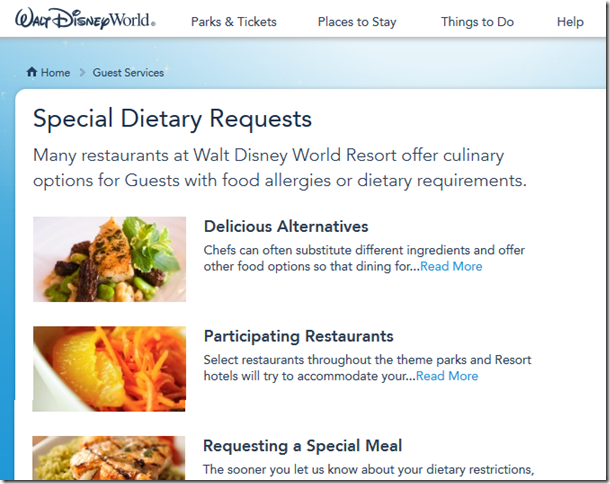 Disney World has many dining options available ranging from Quick Service (think fast food meals) to buffet and sit down (or Table Service) meals. All of their food locations, including kiosks that sell items like ice cream and pop corn, will have an ingredient binder on hand for you to peruse. So if you happen to need a mid day meal and you don't have a reservation at a restaurant you pre-screened, there is no need to worry. Ask to speak to a manager or chef, review the allergy binder and order what you like. Disney is really great at feeding guests with food allergies.
**Since returning home from our trip Disney World has introduced dedicated food allergy menus.
4) Check out your resort before you leave home.
Now you may be wondering why you would need to worry about your accommodations. After all there are probably millions of hotel rooms servicing customers every day, right? How could that present a problem? For many people with food allergies the touch of the allergen can trigger a reaction. A resort room that has had a regular cleaning may not be clean enough. Residue from food, especially sticky items like peanut butter, can linger on the surface of a table even after it has been wiped down.
About two months before our trip to Disney World I made a phone call to Disney's Port Orleans French Quarter Resort, which was our home during our vacation. I spoke with Guest Services and I spoke with the Head of Mousekeeping, I mean Housekeeping. They were amazing! They answered all of my questions and suggested I call back about one week before our scheduled arrival date. When I did call back I asked for our room to receive an Allergy Cleaning. This meant the mousekeeper would know to be extra vigilant when preparing our room. They would ensure that all linens, including the comforters, were fresh. All surfaces would be sterilized and every speck of dust would be removed. This Allergy Cleaning can also be requested for those with allergies to dust and the like and it does not cost anything additional. It certainly put my mind at ease.
5) Seek out others who have traveled with food allergies. 
A few months before our trip I joined a Facebook group called Disney Chefs Rock Food Allergies. The lovely members of this group were extremely helpful and many of them had traveled to Disney World while dealing with food allergies before. I asked questions, I read comments and I asked more questions. Finding a support group of people who have already dealt with what you are going through is vital to a stress free vacation. Or at least a trip where you feel more relaxed.
6) Introduce yourself..
On your way there and once you arrive at your destination it is always a good idea to introduce yourself to folks you may need during your stay.   I am not suggesting you tell everyone your story, but touching base with the Concierge at your resort will be helpful if you need assistance later on. Say hi to your mousekeeper(s) or even leave a note in your room.
Another very important connection we made was with the wait staff and chefs at the restaurants we dined at. Thanks to the good folks in my "Disney Chefs Rock Food Allergies" group we had Allergy Cards made up.  These cards included William's photo, his list of allergens and a few other notes. We gave these to the wait staff and chefs to help them visualize who they were dealing with. It is also a great tool for your chef to take back to the kitchen. They can't forget your allergy if it is on a card in front of them.  These Allergy Cards were a wonderful way to share our needs without creating a lot of drama.
7) Handling the delicate issue of treats.
I have been lucky enough to visit Disney World before so I knew there would be no shortage of treats available everywhere. Candy, chocolate, popcorn, ice cream, cupcakes, lollie pops, gummies, cookies, all decked out in eye catching Disney packaging.  It's everywhere and very easy for little eyes to see.  I can honestly tell you that this caused me more stress than any other part of our trip. While I know that getting candy is not a child's God given right it is the sort of thing that makes vacations a little more special.  Who wouldn't want to eat an ice cream shaped like Mickey Mouse or enjoy a massive cupcake sprinkled in Mickey shaped candy? I knew these temptations were all over Disney World and I dreaded having to tell my son that he couldn't have them.
So, I did the next best thing; I made my own. Have a look at these great Disney themed treat bags my daughter and I made for our trip. While they didn't address every need, they did make William feel he was getting something wonderful and tasty and they were completely safe for him to have.
Another way to approach the treat issue is to contact a chef or two directly and talk to them. Share your concerns. I spoke directly with Chef Raphael at the Port Orleans French Quarter to discuss options for a birthday cake for both of my kids. He made suggestions and even emailed me after doing some extra research. He copied his email to ALL OF DISNEY WORLD'S CHEFS so they would be aware of our situation and possibly even offer more ideas. As a result we were completely blown away when William was presented with a safe cupcake for his birthday, complete with Mickey shaped sprinkles, at Chef Mickey's restaurant. 
Traveling with food allergies can be a great experience or a bad one, but it truly does come down to your own prep work. As a food allergy mama I need for the world to work with me to protect my son, but that means realizing not everyone is as food allergy aware as myself and my family. Diligence is key, but ultimately you can have an amazing time when traveling with food allergies if you are responsible and read through guides like this for ideas. 
Do you have any experience traveling with food allergies? Have I missed any tips you would like to share?
FT&PD
Suz