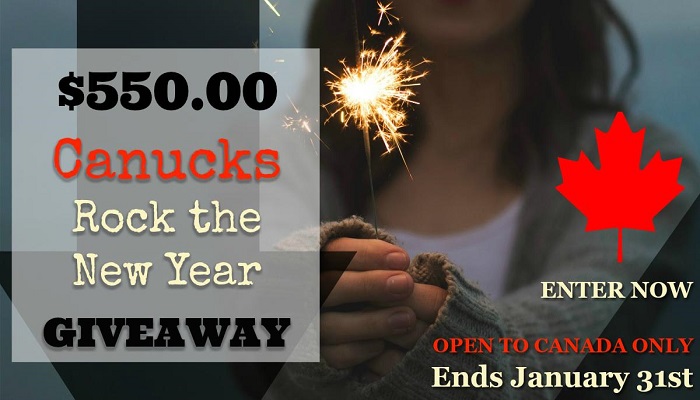 I can think of many exciting ways to start the new year off on the right foot, but what's more fun than winning some cold, hard cash? 😉 January is when the hangover of how much you spent during the holidays starts to kick in. Doesn't the thought of winning some extra cash to help ease that pain seem very appealing? Trust me, it is way better than drinking a concoction comprised of raw eggs, soy sauce and several strange herbs. Probably smells better too.
So don't put those noise makers away just yet people, because the Canucks Rock The New Year Giveaway is the event of the season and you are going to want to be dressed your best! I am thrilled to share with you, dear reader, that myself and several fabulous Canadian bloggers have come together to make this start to 2017 the best it has ever been by hosting a cash giveaway! One very lucky reader is going to win $550!!
To be eligible to win please complete the Giveaway Tool below with your qualifying answers. This giveaway is open to Canadian residents over the age of 18. Please read the terms and conditions found in the giveaway tool, before entertaining. This giveaway will end on January 31st, 2017 . Good luck!
What would you do with the money if you won?
FT&PD
Suz
**Be sure to enter the many giveaways we have going on right now!!