Ask my children and they will tell you this – mom does not know how to bake. At least not very well and it is probably because I don't enjoy it. I know some people bake for the sheer pleasure they derive from it and others to keep their hands busy. My husband doesn't really fall into either of these categories, but he is a great baker and chef, to boot! He will just up and decide he is going to make something, like these amazing Molasses Cookies and he is off to the races. Well, the store anyway. 🙂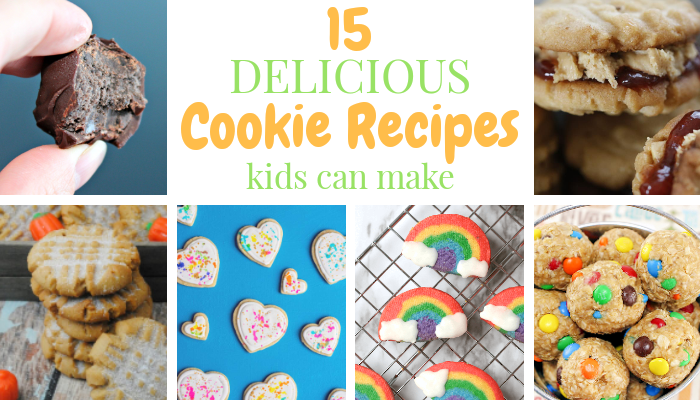 Despite not liking to bake (or cook, for that matter,) I would like my kiddos to have some appreciation for the craftsmanship involved in creating edible works of art and what better way to do that than to start them off with a recipe or two for cookies! The following fifteen recipes are all great for children to practice their baking skills on and then munch on afterward. Check them out!
15 Cookie Recipes Kids Can Make!
1. Peanut Butter Cornflake Cookies from Spend with Pennies
2. No Bake Monster Cookie Bites from Our Kid Things
3. Giant Chocolate Chip Skillet Cookie from Kitchen Frau
4. Raspberry Banana Cookies from Healthy Little Foodie
5. Donut Cookies from Kenarry
6. Perfect Chocolate Chip Cookies from Spend with Pennies
7. Frosted Sugar Cookie Bars from The Gracious Wife
8. Rice Krispie Cookies from Simply Stacie
9. Healthy No Bake Chocolate Peanut Butter Cookies from Joy Food Sunshine
10. Peanut Butter Kiss Cookies from All Things Mamma
11. Peanut Butter and Jelly Sandwich Cookies from Hello Nature Blog
12. Rainbow Cookies from Kids in the Kitchen
13. Pumpkin Spice Peanut Butter Cookies from Kids in the Kitchen
14. Colorful Splatter Paint Heart Cookies from A Side of Sweet
15. Chocolate Covered Oreo Cookie Balls from The Mommy Mix
Which recipe do you think you, I mean your kiddos will try out first? I am not sure where to start!!
FT&PD
Suz