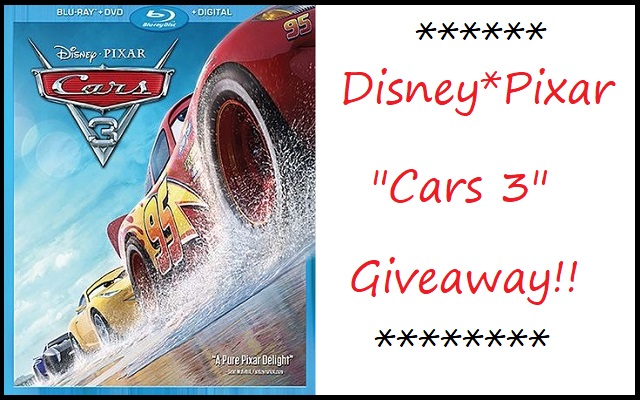 It's funny how certain things just stay with you, like song lyrics you heard on the radio when you broke up with your first boyfriend or characters from a favourite movie. For example, even though it has been a long time since the first movie in the Cars franchise from Disney•Pixar hit the big screen, certain characters have become mainstays in our house. Take Mater for example. At least two to three times a week someone in this house will use the phrase he is known for, "Git-R-Done!" 🙂
When Cars 3 was released, all I heard from my youngest was, "Did you get us tickets yet?"  He just couldn't wait to see it so now that it is out on DVD, you can bet it will be viewed several times.  Despite being the third installment in this series of movies, the charm from the original Cars is still there. As are most of the original characters. I think many sequels and three-quels (and so on) fail because they lose sight of what made them a success in the first place – the originals. Thankfully, Cars 3 did not do that. Yes, there is a new story line to follow and even some new characters to fall for, but the original gang and their charm are always there.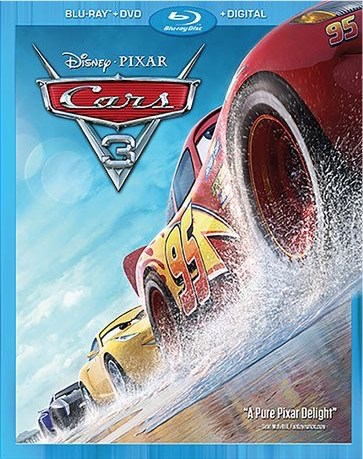 "Blindsided by a new generation of blazing-fast cars, the legendary Lighting McQueen finds himself pushed out of the sport that he loves. Hoping to get back in the game, he turns to Cruz Ramirez, an eager young technician who has her own plans for winning. With inspiration from the Fabulous Hudson Hornet and a few unexpected turns, No. 95 prepares to compete on Piston Cup Racing's biggest stage."
The Giveaway
One lucky MapleMouseMama reader will win a DVD copy of Cars 3! To be eligible to win just complete the Rafflecopter below with your qualifying answers. This giveaway is open to Canadian residents ages 18 and older. Please read our giveaway rules before entering.  This giveaway ends on December 13th, 2017 at 11:59 pm.  Good luck!
Who is your favourite character from the Cars franchise?
FT&PD
Suz
**Don't forget we have some other great giveaways as well!!
**Disclosure: I have been compensated for this post. All opinions are my own.