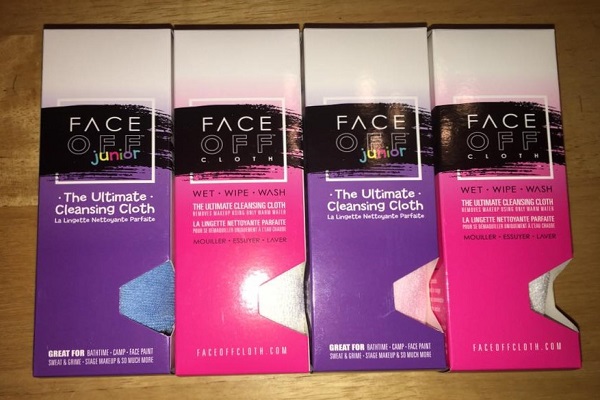 There is one thing I do twice a day, every day, that is vital to keeping me sane – wash my face. Sounds silly, but when my face feels dirty or oily, it makes the rest of me feel unclean. And, it drives me nuts. But using soap too much can dry out my skin and yours too.  Yes, I use a moisturizer, but that is for after. When I am cleaning my face, I want it to feel good right then and there. No waiting for the cream to sink in and take effect.
Up until now I thought I was doing okay, but recently that changed. I tried out FaceOff Cloth for the first time and now I am hooked! This amazing cloth is all you need to clean your face, whether you are removing makeup or just washing off the days' grime. The secret to FaceOff's success lies within its unique weave of ultra-thin microfibers, which are designed to gently lift dirt, excess oil and impurities from your skin, leaving it feeling fresh and healthy. The microfibre technology is hygienic, effective and suitable for all skin types.
It can do all of this with only water! No need for harsh soaps to dry out your skin. And after you use your FaceOff Cloth, just wash it out with soapy water and rinse it.  All the dirt comes off and you can reuse your cloth daily for three to four months. Good for the environment and your wallet. 🙂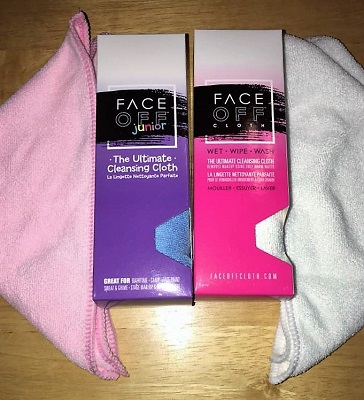 FaceOff Cloth has now introduced a new member of the family: FaceOff Cloth Junior! These colourful cloths are perfect for the littles in your life. They can be used to clean them up after a playdate or sports game, taken in an overnight bag to a sleepover and even put into a school bag for a quick refresh. Just add water and your kiddos can have that clean feeling in no time. FaceOff Cloth Junior is soft, just like your child's skin and is suitable for all skin types.
#BloggersFete Sponsor! 
We are so happy to have FaceOff Cloth join us this year as a #BloggersFete sponsor! They have generously provided a prize for our Twitter Party on August 10th, so you can win your own set of FaceOff Cloths and FaceOff Cloth Junior. Make sure you show them some love on their social channels (Facebook and Instagram) and check out their website to place an order.
We want to extend a huge thank you to FaceOff Cloth for their support this year. ♥♥
How do you take care of washing your family's face right now?
FT&PD
Suz
**Make sure you check out the news about #BloggersFete and our upcoming events!
**Don't forget we have some great giveaways as well, including ones for cash!!
Disclosure: I have received products from FaceOff Cloth to help facilitate this post. As always, all opinions are honest and my own.