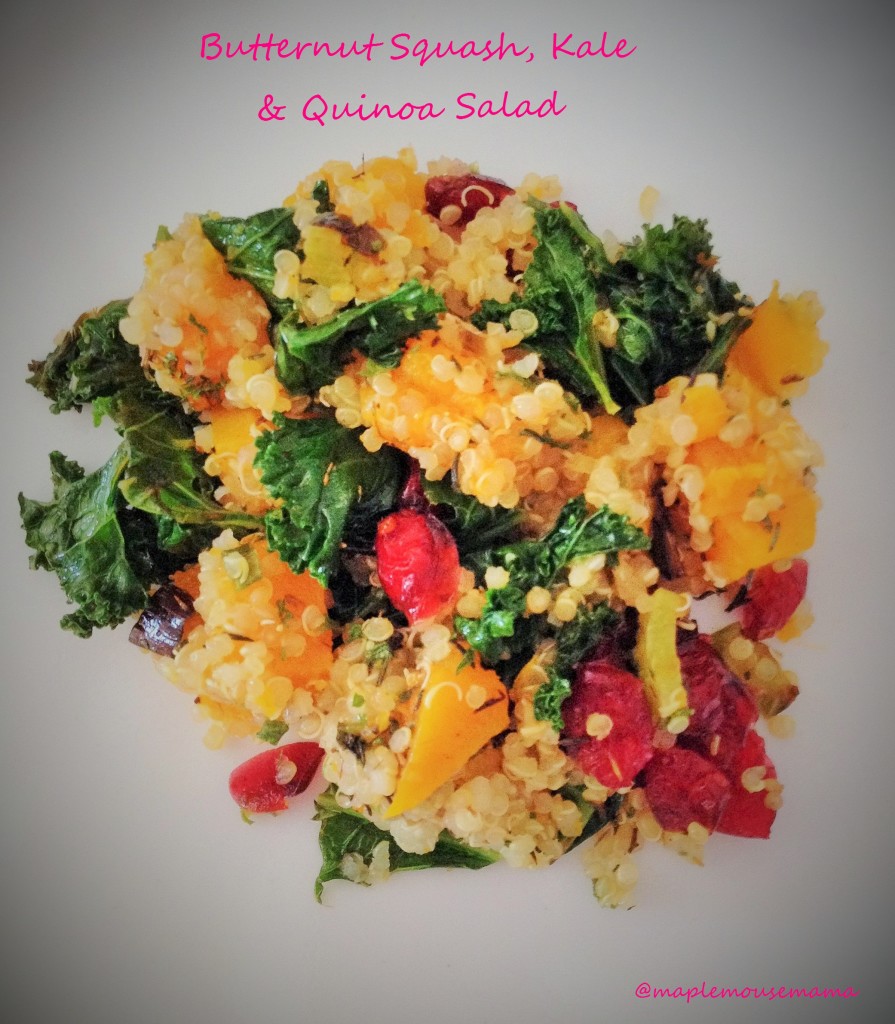 The last thing I thought I would ever eat and actually enjoy is this salad.  Yes, it does actually contain quinoa, kale and butternut squash and yes it does actually taste really good! Both quinoa and kale are considered to be super healthy due to all the great nutrients they contain.  Read up on them if you really want to know more, but the most important part, the taste, I can vouch for.  They were pretty good!  Canadians celebrated our Thanksgiving last weekend and it was my lovely Mama who decided to make this concoction.  I must point out that she got the recipe from the Marilyn Denis Show and it was showcased by chef Lynn Crawford. Being a blogger and not being very good at cooking I jumped at the chance to help out and share this dish with you.
There is a fair amount of prep work for this salad, but a lot of the chopping can be done while your squash is cooking.  My Mama wanted me to point out that she purchased many of the ingredients from the bulk food store.  This saves buying large portions of something you may not use all of.  This is an excellent tip as we all know that MapleMouseMama likes to "keep good food from going bad." Without further ado I present:
Quinoa, Kale & Butternut Squash Salad
Ingredients:
1 & a 1/2 cups quinoa, mix red & white for colour

1 bay leaf

1 medium butternut squash, peeled and cut into bite size pieces

2 tbsp olive oil

2 ribs celery, diced

2 medium leeks, washed & chopped

1 tsp. fresh garlic, minced

3 ounces curly kale, chopped

1 cup dried cranberries

1/4 cup fresh parsley, chopped

2 tbsp fresh herbs, parsley, chives & thyme, finely chopped

Chicken or vegetable broth (instead of water), optional

Juice from 1/2 an orange & 1/2 a lemon, optional

Salt & pepper to taste

1/3 cup chopped walnuts, optional
Directions:
1. Prepare the quinoa according to package instructions, substituting chicken or vegetable broth for the liquid called for in the instructions. This is optional though.  Preheat oven to 400F and adjust rack to middle position.
2. Toss squash with one (1) tablespoon of olive oil and season with salt and pepper.  (I would leave the salt and pepper out, but not my mama.)  Spread the pieces evenly in a baking dish and cover with foil.  Roast for 15 minutes, remove foil and roast for an additional 20 minutes, until edges are golden brown.  Remove from oven and set aside.
3. Meanwhile, in a medium to large pan, add remaining olive oil over medium heat.  Add the celery and saute for two to three minutes, until slightly tender.  Add the leeks and saute for an additional two to three minutes, until leeks & celery are tender.  Add the garlic and cook for another (1) minute more.
4. Reduce the heat to low.  Add the chopped kale and saute over low heat until kale has wilted.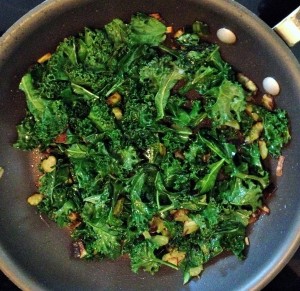 5.  In a large bowl, combine the cooked quinoa, butternut squash, vegetables from the saute pan, cranberries and herbs.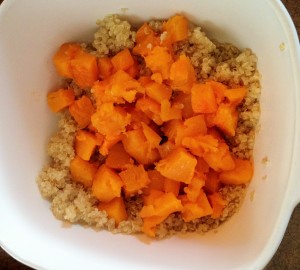 6.  Squeeze the juice from half an orange & half a lemon over all the herbs.  Stir until combined, season with salt and pepper. (I found that we did not need the juice, but again, that is my personal opinion.  My mama loved it! )
7.  Just before serving top with 1/3 cup chopped walnuts, optional. We did not use the walnuts due to food allergies, but it would have added a nice crunch to the whole dish.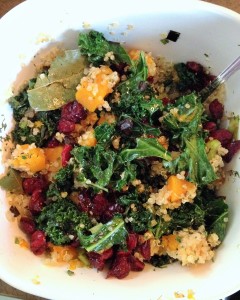 So there you have it folks; Quinoa, Kale and Butternut Squash Salad.  You can serve it as a side dish or even as a meal.  I think every food group is covered here.  We served ours warmish, almost room temperature, but you can certainly heat it up or serve it cold.  Bon appetite!
Any suggestions for what we could add to top off the salad and give it some crunch without adding nuts of any kind?
FT&PD
Suz