Sherlock Gnomes is the sequel to Gnomeo & Juliet, the first of the garden gnomes movies and it is just as fun! My kiddos and I have watched both movies and I quite enjoyed the story line of each. As my children age I find that many kids movies lack an interesting tale to tell, but that is not the case here. The main characters of Gnomeo and Juliet return and we are introduced to two new characters, Sherlock Gnomes and his assistant, Gnome Watson. See? I told you it was fun!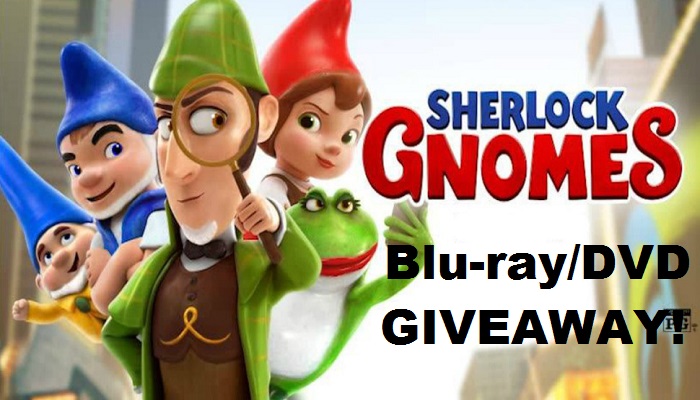 Here is a bit about the movie to get you interested, if the title hasn't already done so:
"When Gnomeo (James McAvoy) and Juliet (Emily Blunt) discover their friends and family have gone missing, there's only one gnome to call – the legendary detective Sherlock Gnomes (Johnny Depp). Working together, the mystery takes them beyond the garden walls and across the city on an unforgettable journey to save the day and bring the gnomes home."
The movie has a few interesting turns, just enough to keep a youngster interested and several of the one-liners made me chuckle out loud. I really enjoyed how the writers put their own spin on the Sherlock Holmes story and made it fit with the Gnomes. Of course there is plenty of room left for a third movie to come from all of this. Time will tell if that happens.
The Blu-ray Combo Pack is loaded with nearly 45 minutes of bonus content. Meet the all-star cast including Johnny Depp, James McAvoy and Emily Blunt and discover how this hilarious family adventure was brought to life. Plus, enjoy the new music video "Stronger Than I Ever Was," learn how to draw some of your favorite Gnomes and much, much more!
The Giveaway
One lucky MapleMouseMama reader will win a Blu-ray & DVD Combo of Sherlock Gnomes!!  To be eligible to win just complete the Rafflecopter below with your qualifying answers. This giveaway is open to Canadian residents ages 18 and older. Please read our giveaway rules before entering. This giveaway ends on August 17th, 2018 at 11:59 pm.  Good luck!
Do you watch movies with your children? What is your favourite to see?
FT&PD
Suz
**If you would like me to review your product, service, restaurant or travel destination, please send me an email at rudges2@gmail.com or tweet me at @MapleMouseMama.
**Disclosure: I have been provided with items to review for this post. All opinions are my own.