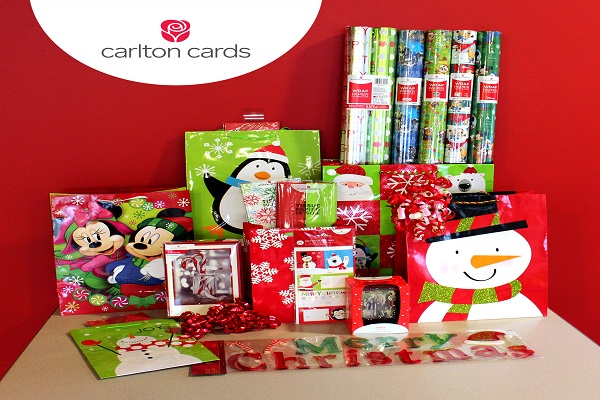 I use to love shopping for people for Christmas. Heading to the crowded mall, list in hand, with a determination to get it all done at once. But as I have grown older I find that I don't actually like the shopping part so much as I love the giving part. It is just so much fun to see the look of anticipation on your kiddo's face as they look at the brightly wrapped packages under the tree. If I could I would hire someone to do my shopping for me and then just enjoy the rest.
The rest. Like the wrapping part. I actually LOVE to wrap gifts! I have even lamented to my hubby that someday, when we have a bigger home, I am going to have a gift wrapping room! Yup, for nothing but wrapping presents in pretty paper, sparkling tissues and bright, beautiful bags and ribbons. Sigh.. sounds like heaven. ♥ And it will be stocked to the ceiling with supplies from Carlton Cards. Just look at some of the fabulous gift wrapping items they have available for the holidays this year:
The Giveaway
One lucky MapleMouseMama reader will win a prize pack of Carlton Cards Christmas gift wrapping essentials! To be eligible to win just complete the Rafflecopter below with your qualifying answers. This giveaway is open to Canadian residents ages 18 and older. Please read our giveaway rules before entering.  This giveaway ends on December 19th, 2017 at 11:59 pm.  Good luck!
Do you like to use wrapping paper or gift bags to wrap your gifts in?
FT&PD
Suz
**Have you entered any of our other fabulous giveaways?
**Check out our other great gift ideas in the #MMMGiftGuide!
**Disclosure: I have been compensated for items in the post. All opinions are my own.