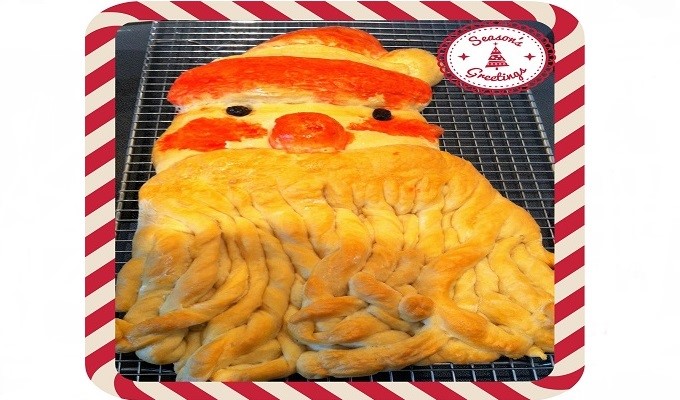 Although I have probably seen this before, I have never made Santa Bread. Have you? After prepping this post I found myself adding dough to my grocery list for this week because I know my kiddos would love to do this. 🙂 In the meantime, I want to share some photos with you from when our contributor Kathy made Santa Bread with her granddaughter recently. It looks like they had a great time!
Kathy shared with us that, just like the tutorial she followed on Taste of Home, she also bought frozen dough to make her Santa Bread rather than making her own. It saves a lot of time and frustration, unless you have made your own dough before. If you decide to make your own Santa Bread, let us know if you make your own dough or use frozen.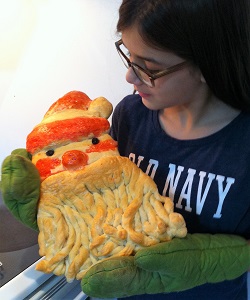 Supplies Needed
2 loaves of frozen bread dough (or make your own)

1/4 cup of flour

1-2 egg yolks

red food colour

2 large raisins or 1 black olive

pizza cutter or scissors

roller

brush

cookie sheet
Directions
1) Open your defrosted dough and place onto floured surface. Depending on how large you want your Santa Bread to be, take a portion of the second loaf of dough and combine the two together. Roll out the dough on your floured surface.
2) Shape the larger portion of your bread dough into an elongated triangle with rounded corners to make Santa's face and his hat.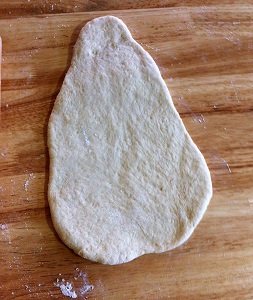 3) Using the smaller portion of dough (the second loaf), flatten it out and shape it into Santa's beard. Make sure to leave some of the second loaf aside for use later. Use the pizza cutter or food scissors to cut the beard into strips, stopping within 1 inch of the top of the beard.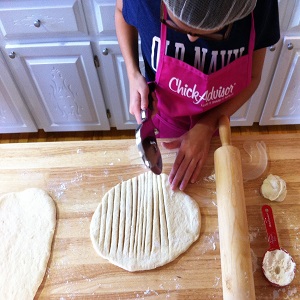 4) Place the beard portion of dough onto the bottom on Santa's "face." Be careful when picking up your sliced dough. Gently maneuver the dough until you have it where you want it.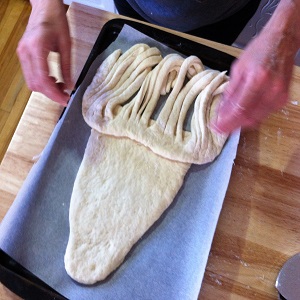 5) If you like you can now gently twist the cut dough strips to make the beard appear curly. Bend up the ends as well.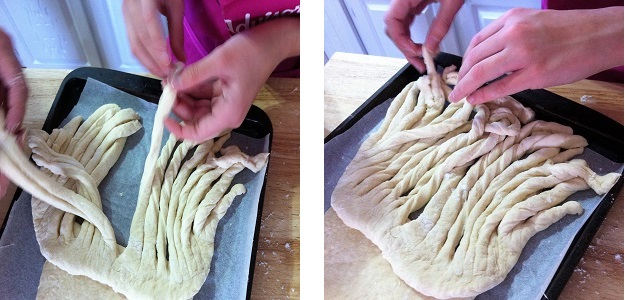 6) Use the rest of the dough to create the brim of Santa's hat, a round ball for the pom-pom of the hat and Santa's nose. If you like, gently fold over the top portion of the hat to create a "floppy" look or you can leave it flat. Add the pom-pom.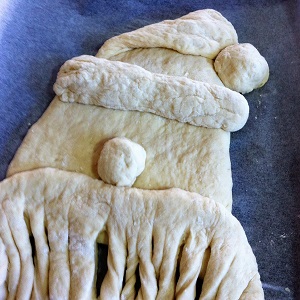 7) Next, add the red food colouring to one beaten egg yolk and then carefully brush the tinted egg onto the brim of Santa's hat and the top "flop" part, as well as his nose and cheeks! Brush the plain, un-tinted yolk onto the rest of the dough.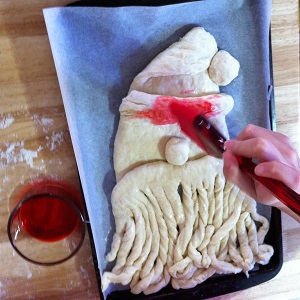 8) Using either the raisins or halves of one olive, place the eyes on Santa's face and add your nose.
9) Bake your Santa Bread according to the packaged dough instructions and enjoy!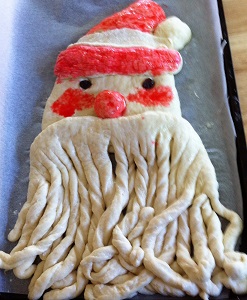 Will you make Santa Bread this year? Make sure you let us know in the comments!
FT&PD
Suz & Kathy