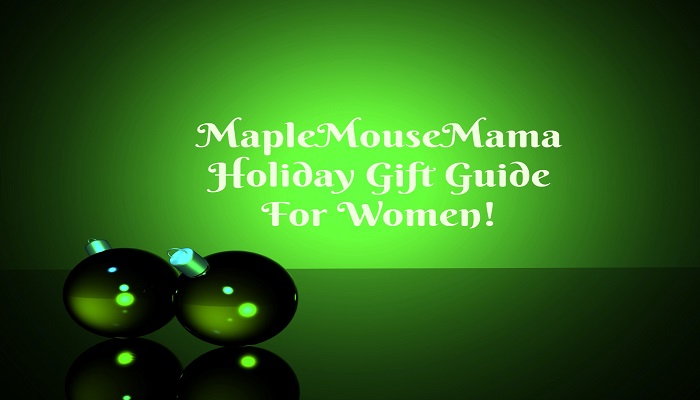 For the third annual MapleMouseMama Holiday Gift Guide (#MMMGiftGuide) we are changing the look and delivery up a little, but the ideas are still fantastic. Have a peek through, find your favourites and get that list going. Make sure you check back often for newly added items and some amazing giveaways!! Here we go!
Aveeno Absolutely Ageless Collection
I am at the age where I need to change up my skin care routine so I was really excited to learn about the Aveeno Absolutely Ageless Collection.  The Aveeno® brand is known for using Active Naturals® ingredients sourced from nature to deliver real benefits for healthier-looking, more beautiful skin and hair. Who wouldn't want that? It is hard to pick a favourite from the collection. The Daily Moisturizer with SPF30 protects your skin while visibly reducing the look of fine lines, yet at night the Restorative Night Cream nourishes and hydrates your skin while you sleep. The Eye Cream,  Nourishing Cleanser and Intensive Renewal Serum round out the collection. You can bet your lady will love the look and feel of her skin once she uses the Aveeno Absolutely Ageless Collection. 

Sweet Reads Box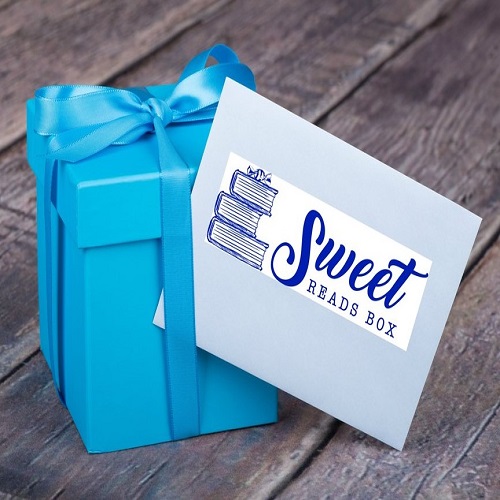 Subscription boxes have been taking over for the past couple of years and they all seem to offer something different. But let's be real; how many socks do you need each month? I would rather spend my money on something new, exciting, entertaining and all just for me. The Sweet Reads Box takes this want of mine to a new level. They have literally been able to box "Me Time. Delivered." Each month a beautiful book to get wrapped up in is sent to you along with a decadent sweet treat and a carefully curated item that ties to your new novel perfectly. All you need is a comfy place to relax and your Me Time will be the Best Time. With month to month, 3 month and 6 month options available (plus gift cards), a Sweet Reads Box subscription is the perfect gift for the holidays.

FaceOff Cloth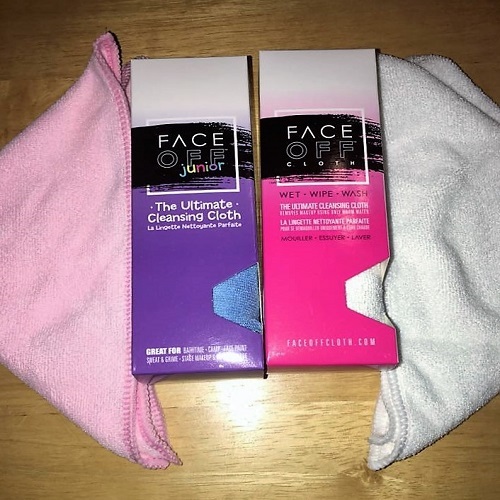 Earlier this summer I tried FaceOff Cloths for the first and I was hooked! This amazing cloth is all you need to clean your face, whether you are removing makeup or just washing off the days' grime. The secret to FaceOff's success lies within its unique weave of ultra-thin microfibers, which are designed to gently lift dirt, excess oil and impurities from your skin, leaving it feeling fresh and healthy. The microfiber technology is hygienic, effective and suitable for all skin types. The best part is, FaceOff Cloth can do all of this with only water!!

Fresh Beauty Products at Sephora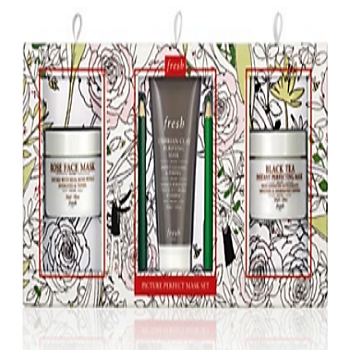 Get beautiful, hydrated, healthy-looking skin with this full ritual, Best of Beauty Bundle containing Fresh's to-go cleanser, citrus face mask, makeup-prepping moisturizer, firming eye cream, and 24-hour nourishing lip treatment.  A gift set featuring a full skincare ritual that delivers gorgeous, healthy-looking skin, packaged in a pretty box you can color to your heart's content.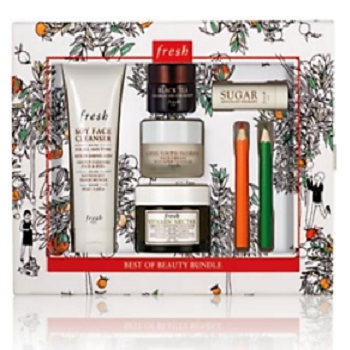 Get selfie-ready skin with a trio of fan-favorite face masks. The Picture Perfect Mask Set is perfect for all skin types, each mask lets you hydrate, purify, or perfect your complexion. De-stress and have fun by coloring in the blooming rose field design—inspired by Fresh's cult-classic Rose Face Mask—with the pencils found inside, or feel free to gift and let them do the coloring.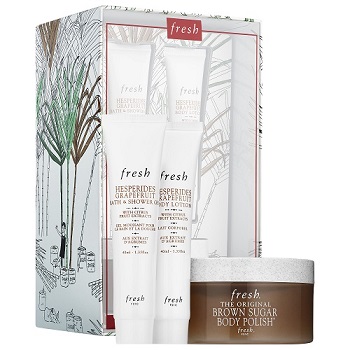 The Bodycare Besties collection lets you enjoy a spa stay-cation with this nourishing trio featuring cleansing, exfoliating, and moisturizing essentials for soft, smooth skin all over. The sweet sugar cane design celebrates sugar, a natural exfoliant for the skin, while the Hesperides grapefruit duo refreshes your senses with an intoxicating citrus medley.

Shiseido Ever Bloom Eau de Parfum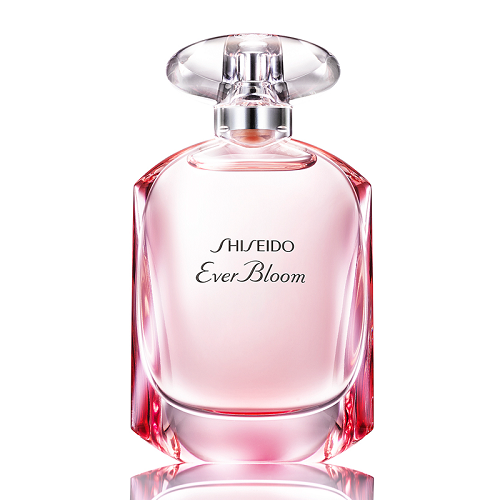 Made in France, this musky, floral fragrance will help bring out the natural beauty in someone you love. The Ever Bloom Eau de Parfum from Shiseido is a natural, captivating scent that was created to complement the innate qualities that embody the wearer, allowing her inner beauty to shine through. Enjoy this lovely scent day or evening.

Headleveler Pillows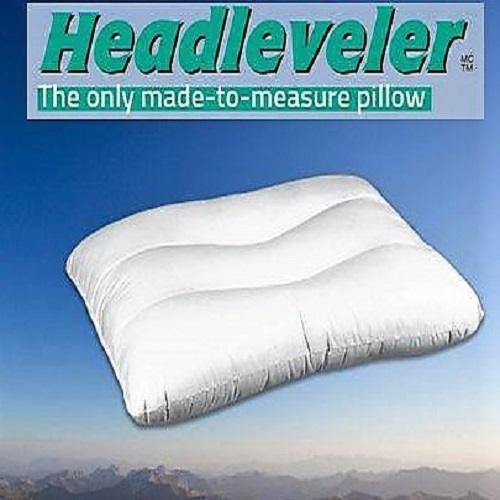 This family-run Canadian company has been dedicated to making the highest quality custom pillows for many years now. With individualized service, they offer you a concierge made-to-order experience with their wonderful pillows. What sets these beauties apart? They are 100% hypo-allergenic, 100% washable and breathable and 100% personalized to fit you. And their delivery service is top notch! Give the gift of a great sleep with Headleveler Pillows.

Beside•U Bags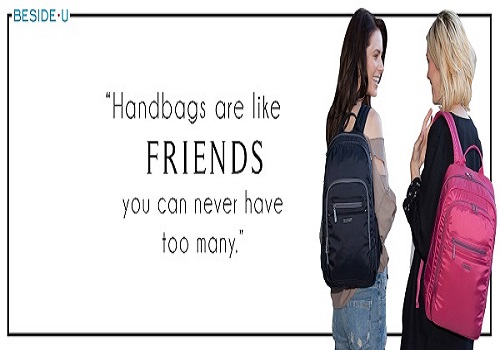 At Beside•U they believe that your bag is a special companion that is always with you, whether you are having a great day or a not so good one. They are dedicated to providing a wide collection of handbags, totes, briefcases and casual day bags to match your style and provide the function you need. Made from nylon, Beside•U Bags are great for everyday use or perfect for travel! Many of their bags have security features like RFID and a detachable security whistle. A Beside•U Bag is the perfect gift for anyone in your life.

Burt's Bees Holiday Gift Sets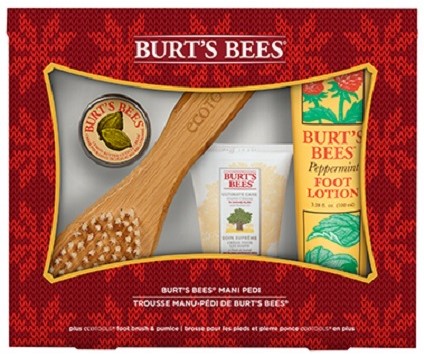 Bring a smile to someone's face by gifting natural this year! Made from natural ingredients, with yummy flavours and a great look, these gift sets are the perfect Secret Santa present and make wonderful stocking stuffers. The Burt's Bees Mani Pedi Kit is ideal for a little bit of well-deserve pampering. Treat hands and feet to soothing Peppermint Foot Lotion, hydrating Ultimate Care Hand Cream and restorative Lemon Butter Cuticle Cream. Comes complete with an ecoTools foot brush and pumice.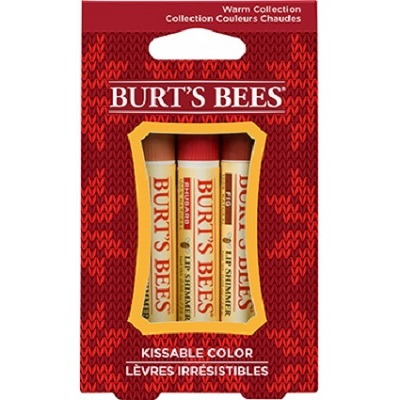 That perfect, magical holiday kiss. It could be just around the corner! Help someone you love be ready for it with our Kissable Colour gift set: a trio of lip-nourishing, 100% natural Lip Shimmer shades in warm or cool collections.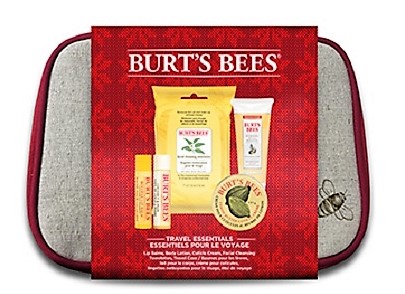 If you plan to travel this winter (even for a weekend away) the Burt's Bees Travel Essentials Kit is perfect for gifting (and for getting 🙂 ) The pretty canvas bag comes with carry-on friendly nourishing Milk & Honey Body Lotion, Mini Lemon Butter Cuticle Cream, Beeswax Lip Balm, Coconut & Pear Lip Balm and a 10 pack of Facial cleansing towelettes with White Tea Extract!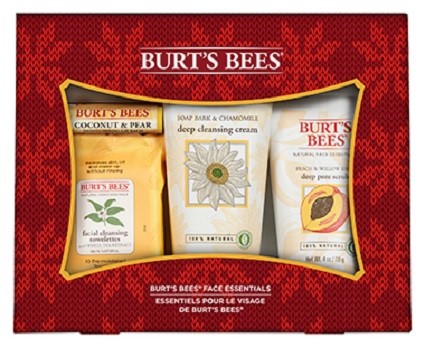 The tingly, fresh feeling of beautifully clean skin. Is there anything like it? Burt's Bees Face Essentials will give you just that. Between their White Tea Towelettes, Peach & Willowbark Deep Pore Scrub, and Soap Bark & Chamomile Deep Cleansing Cream, it's a feeling you can wrap up and give to someone you love this season.
With all of these wonderful items to choose from you are certain to find something marvelous for the ladies in your life. Happy shopping!
Have you started your holiday shopping yet?
FT&PD
Suz
**Have you entered any of our fabulous giveaways?
**Check out our other great gift ideas in the #MMMGiftGuide!
**Disclosure: I have been compensated for items in the post. All opinions are my own.